Our day began bright and early, and the drive down I-75 to Jackson Center was beautiful in the morning light. It's funny…even seeing the city limits sign is exciting to Airstream fans. We were bringing June Bug home to where she was built!
While inside waiting for the service guys to meet with us, we ran into two other couples waiting for their Airstream work to be complete. If we hadn't skipped breakfast we might have sat there for a long time talking Airstreams, campgrounds, travel suggestions, and all the rest.
We were disappointed to learn that the Airstream service department had ordered one of the awnings in the wrong color. So they plan to install the one that's correct, order the other, and then drive our trailer back to us in Indianapolis after the work is complete. So in order to leave the trailer behind, we had to quickly unload EVERYTHING out of it so they could winterize. That meant we had to empty the refrigerator/freezer and all the food from our cabinets, which we had intended to do at our leisure once back home.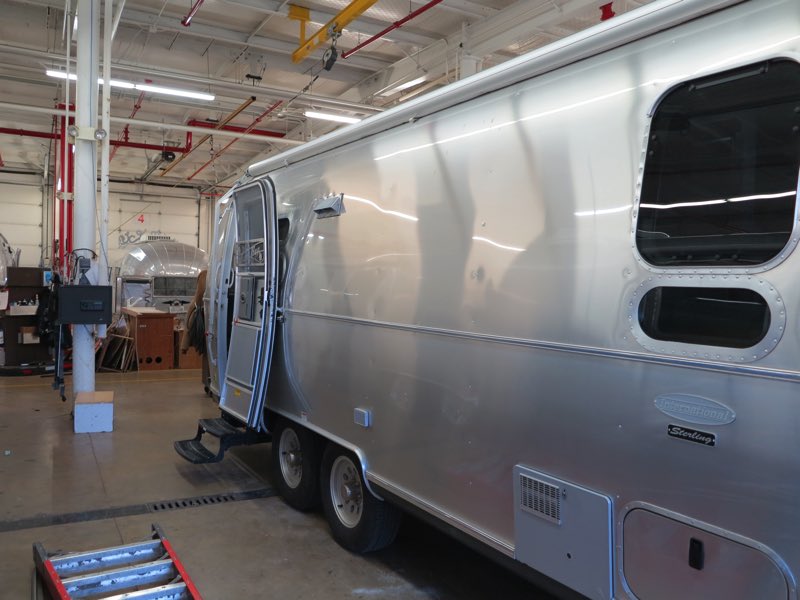 It didn't take long to retrieve our computers and dirty clothes, but the poor service tech had to stand around and wait for us. The guys who made the mistake in ordering were very apologetic, and they didn't rush us or anything. It was just an unexpected bump in the road.
The little restaurant is 60 years old and family owned, with dated decor and food like "your mom" would make. I chose fried mush and biscuits/gravy. Bob had steak and eggs with hash browns. We both marveled at how delicious the food was…an unexpected treat! My gravy was *almost* as good as brother-in-law Frank's gravy, but I won't tell him that. Bob absolutely loved the sourdough toast, which was thick cut and toasty brown.
My only complaint was that although the coffee was good, fresh and hot, the creamer was Non-Dairy. NO NO NO NO! If I'm sitting in a little local restaurant enjoying a super yummy breakfast, I want real half & half. So there.
Our waitress was really cheery and gave us good suggestions about our breakfast options. The Lucky Steer was an excellent choice and I do recommend it to any fellow Airstreamers looking for a place to eat while they wait for service. It's about a 20 minute drive from the factory.
Although we no longer had to kill time in Ohio, and could have headed on home, after breakfast we drove directly across the street to the Armstrong Space Museum for a visit. Terrific! We strolled through the exhibits, and while it's a small museum, there was quite a bit to see. Neil Armstrong grew up in Wapakoneta and his life story and historic moon landing were told with great photos and a large collection of memorabilia.