The preparations have begun for our week-long adventure with big sister Lynne. Because she is disabled, we've made special considerations for her comfort and enjoyment!
The first step — giving the June Bug her first detailed bath. Frank came over from next door to give us a hand. It's amazing how dirty a little silver Airstream can get when it just sits for a few weeks. We reached into every crack and crevice and found lots of leaves and plenty of crud. We swung out the protective windows on front and WOW it was dirty in there. But not anymore!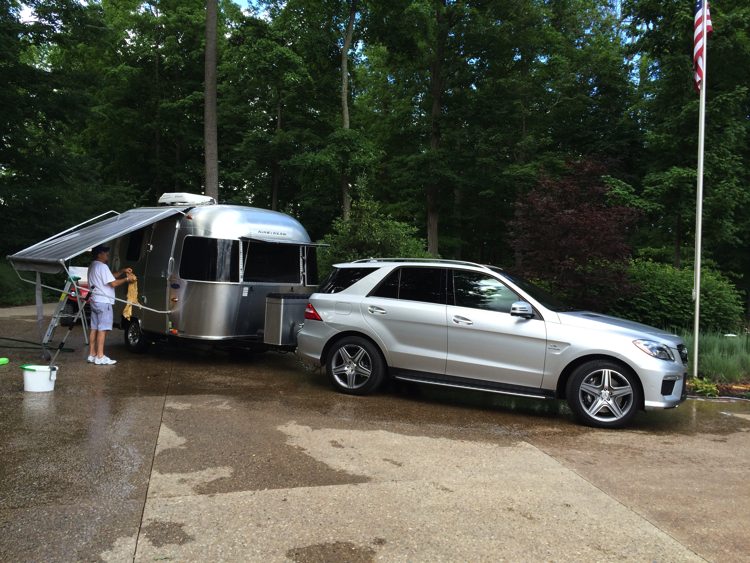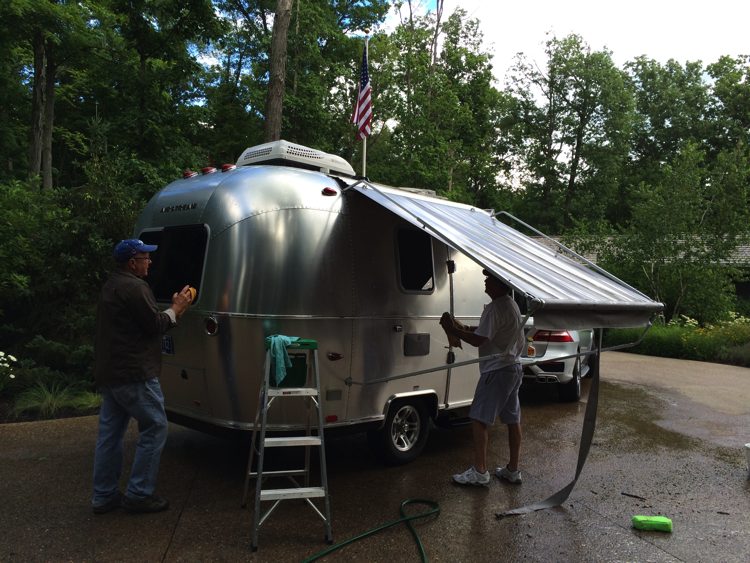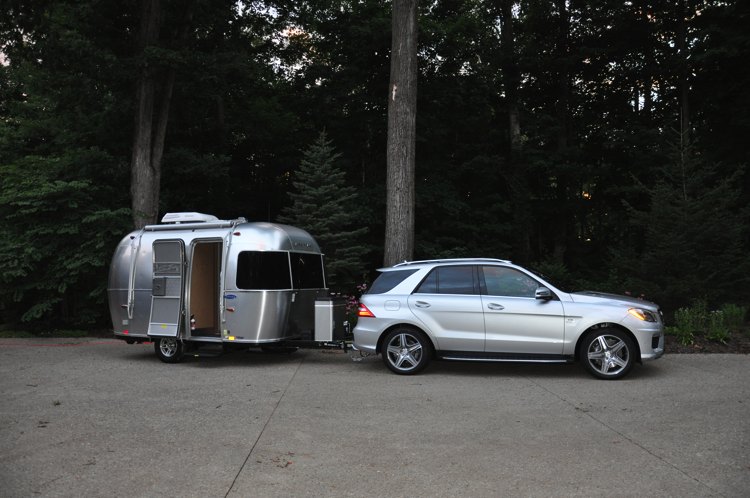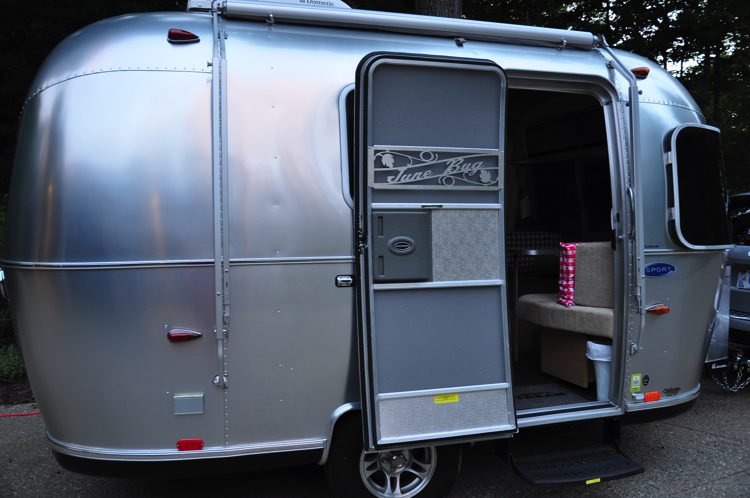 Lynne was a perfect passenger in the Steely Van, and didn't sleep a wink on our drive across Indiana and Illinois. We pulled into Stronghurst in the late afternoon and set up camp in our childhood friend's yard. Lucky for us, they live across the street from the fairgrounds, and it's FAIR WEEK! We knew what that meant: FAIR FOOD for supper. The beef producers sell delicious ribeye sandwiches and Sterzing potato chips.
We sat outside and listened to cows mooing and watched the Baggo tournament. In Indiana we call it Corn Hole. Same game…and these players were serious!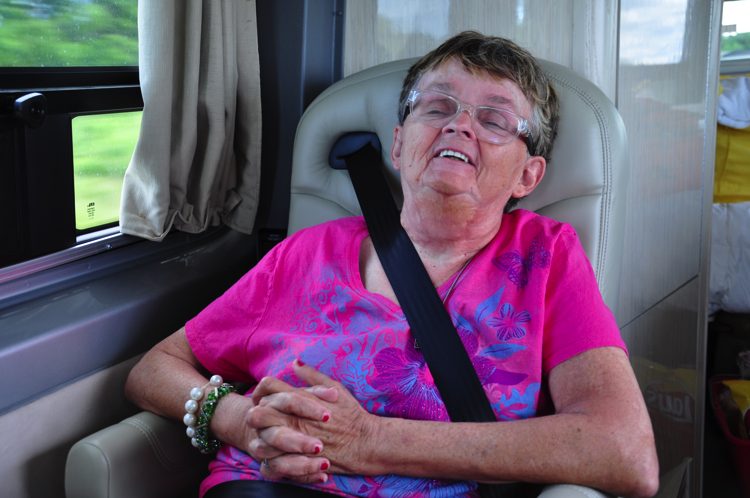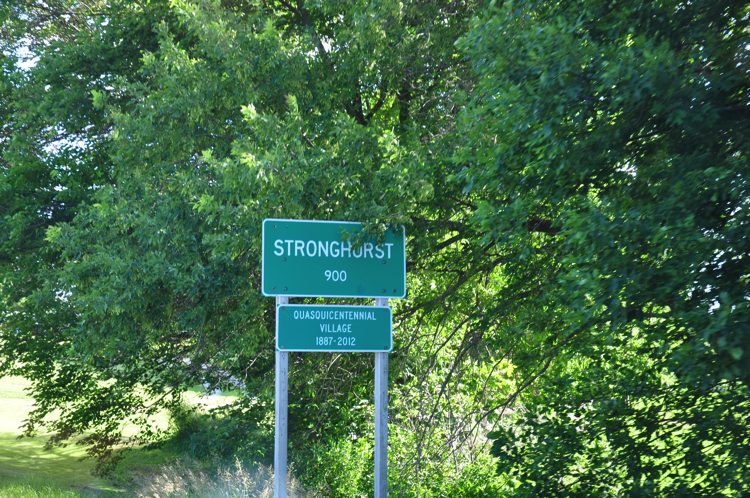 July 16th, 2014
Lynne was thrilled to get to Stronghurst, our eagerly anticipated first destination on this adventure. We set up our campsite in the Wisslead family yard, which is directly across the street from the county fairgrounds.The location afforded Lynne the opportunity to hold court and welcome visitors who strolled by on their way into the fair. We dined on Maid-Rites and pork chop sandwiches. It was an evening for Lynne to laugh and catch up with old, old friends. So many people remember Lynne and her beautiful smile.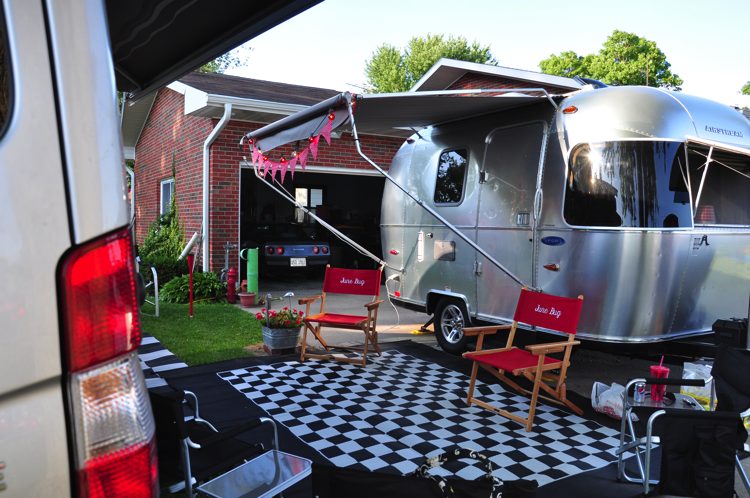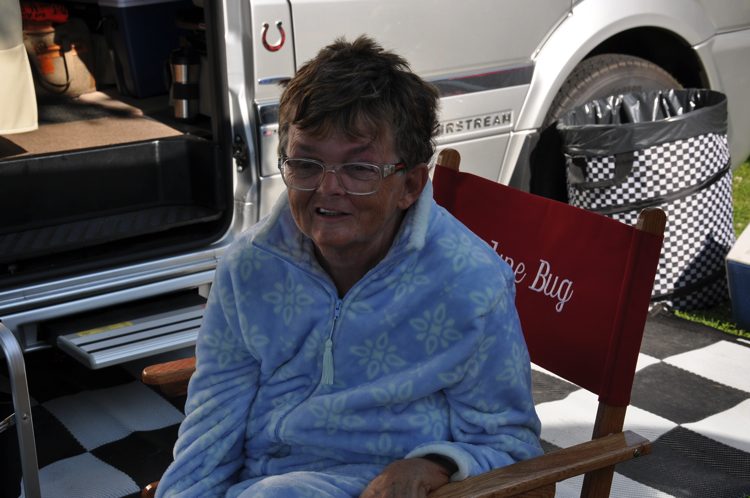 July 17th, 2014
On our first full day in Stronghurst we took Lynne on a nice long walk all over town. Susan pushed Lynne's wheelchair, and Eleanor Ann took her three grandkids. We made quite a procession! We stopped by our mom's house, which has been standing empty for several years as the estate gets settled, to survey the decline of a once much-loved home.
Lynne was happy to head uptown to see Sally at the grocery store, and we stopped at the park for a few minutes of playtime. I spent a few melancholy moments snapping photos of our tiny home town.
That evening we gathered a large group together and drove to Lomax, Illinois to eat at The Pink. Catfish, fried chicken, pork tenderloins…all the great food we remember! It's a must-stop every time we visit the area.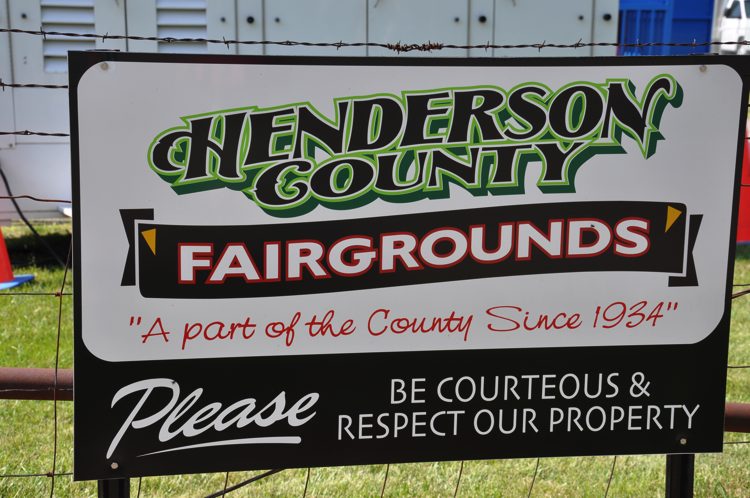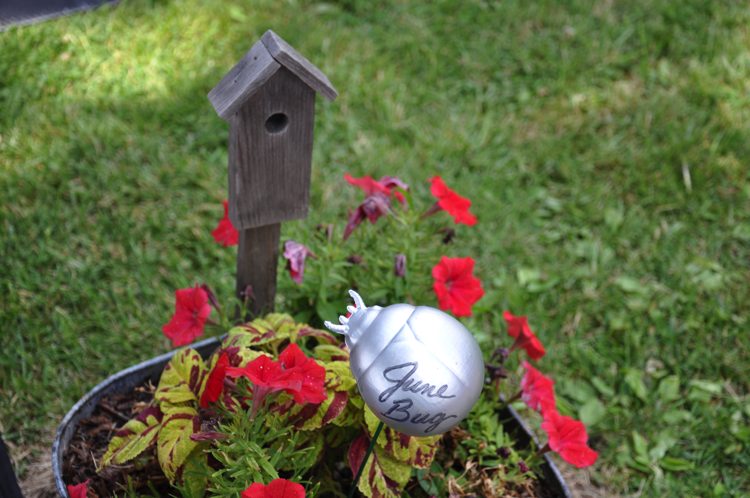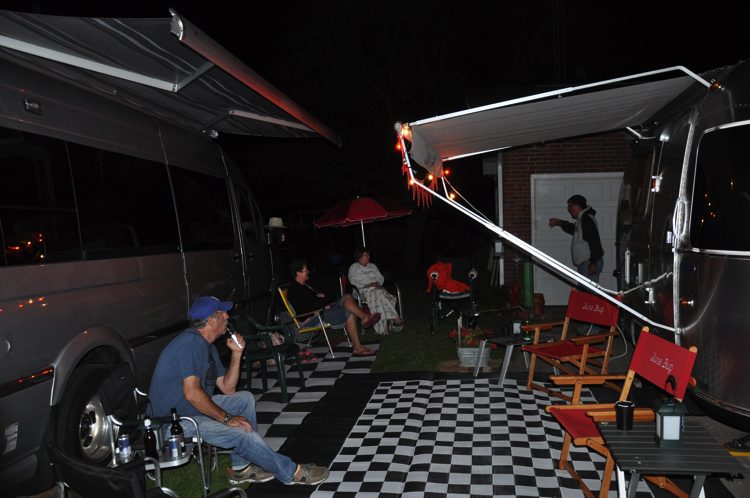 July 18, 2014
We packed up the caravan and left town, heading for Iowa. We drove the Great Mississippi River Road and saw spectacular vistas. We had a picnic lunch in Clinton, Iowa, at Eagle Pointe Park, a gorgeous county park with nice picnic tables and a looping drive that allowed us to go through the entire park without having to do any backing up (VERY IMPORTANT!). Everybody but me spotted a bald eagle!
Our camping destination was in Guttenburg, Iowa. We pulled into Miner's Creek Hideaway, situated off a gravel road just outside of town. The campground is deep in a valley between two forested bluffs. There were lots of other campers, but the grounds were completely quiet. They offer a super-clean shower house, and even have soft water! The owner Denny, a lifelong and super friendly local guy, wears a cowboy hat and rides a horse named Buddy, which Lynne was thrilled to see! The only thing missing at this terrific campground is a phone connection or WiFi. We were completely off the grid and uninformed, much to the disappointment of sister Susan!
We made camp in side-by-side full hook-up sites, and moved the picnic tables together to create a little compound. Frank threw some baked potatoes into the fire and we grilled steaks. There were a million stars in the sky and we sat by the fire sipping a little whiskey and listening to Frank tell tales.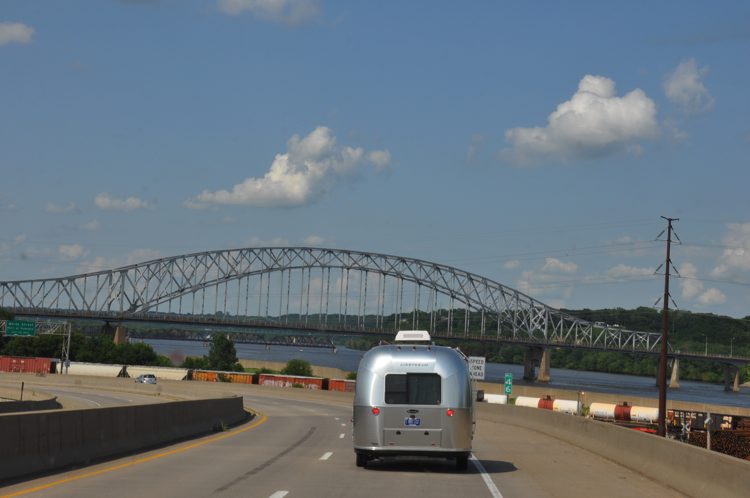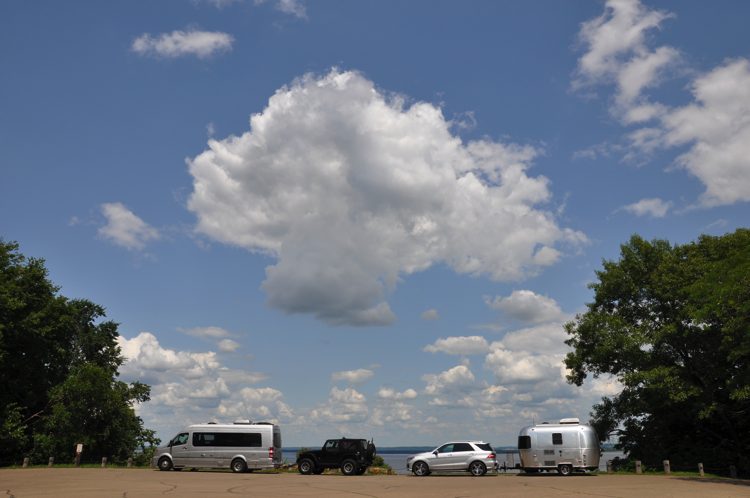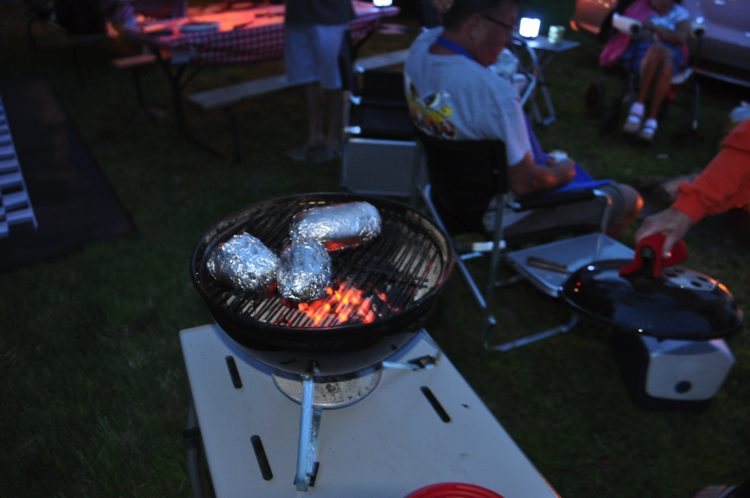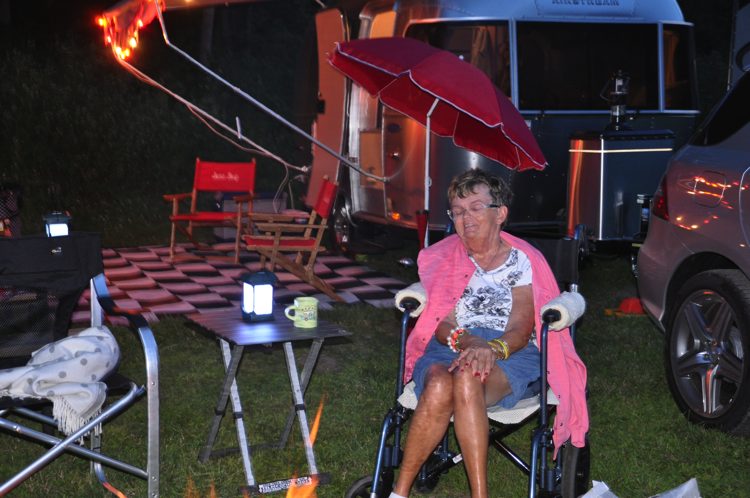 July 19, 2014
This morning we woke to the aroma of bacon cooking and coffee perking, outside! THAT is the best reason to go camping! Frank and I tried out the Pie Irons for the first time, and thoroughly enjoyed the results. We filled them with well buttered bread, crispy bacon, an egg and a slice of cheese. Put them in the fire, and voila! A smoky and delicious breakfast sandwich.
Bob spent some time flying his drone, and it flew so hight he actually lost signal for a time. It has a program that brings it "home", so all was fine in the end!
In the evening, we were delighted to attend a family wedding at the Promise Land Winery. Lynne especially enjoyed getting all dolled up for the occasion. The ceremony was held high up on a hill, in the middle of acres of beautiful grape vines. Of course, I didn't snap a picture, dang it.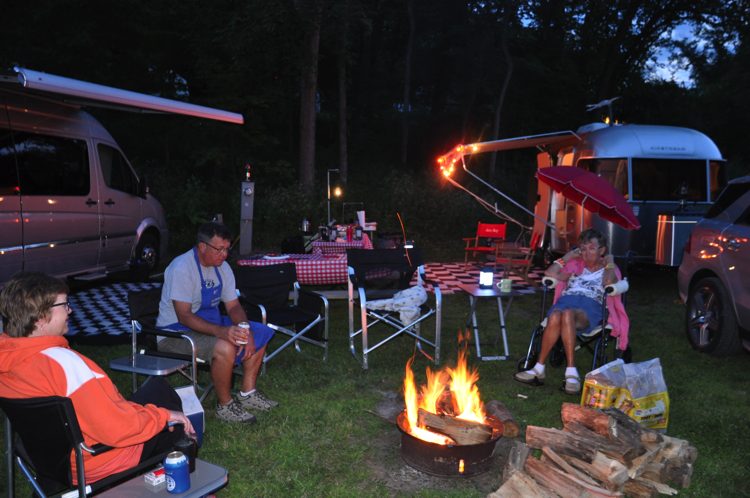 July 20, 2014
First thing in the morning we enjoyed Frank's famous sausage gravy with biscuits baked in a dutch oven over the fire. I'm learning some new campfire recipes!
Our big destination today was the Field of Dreams Movie Site in Dyersville, Iowa. It's a breathtaking setting, and when the Ghost Players walked out of the corn onto the field, with the theme music playing, we all had chills!
The rest of our day was spent driving through this beautiful corner of our country. We had no idea how scenic it would be. In fact, Lynne got tired of getting out of the car for our various scenic overlooks!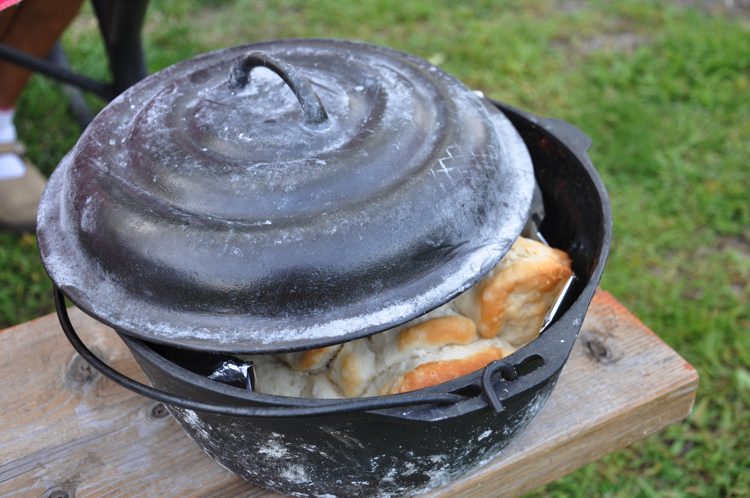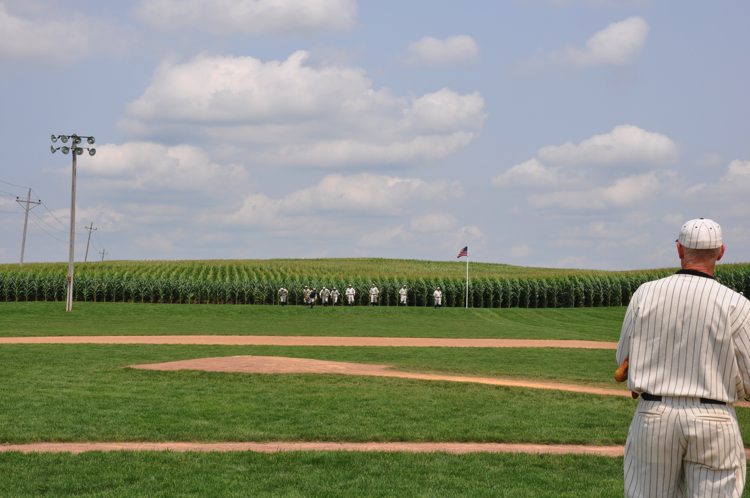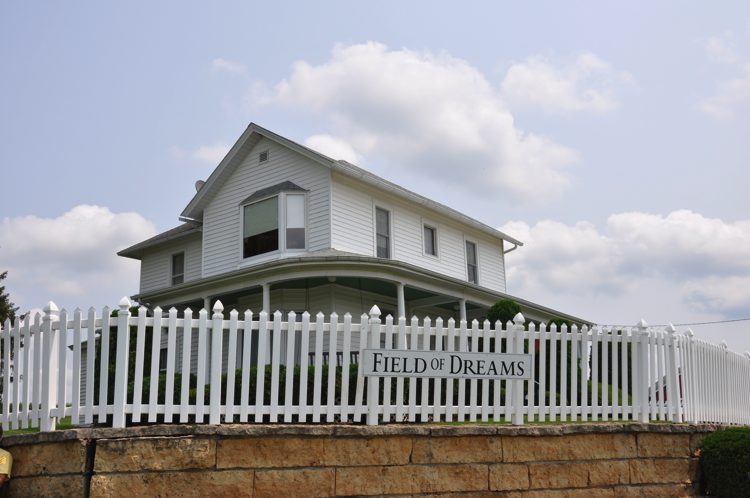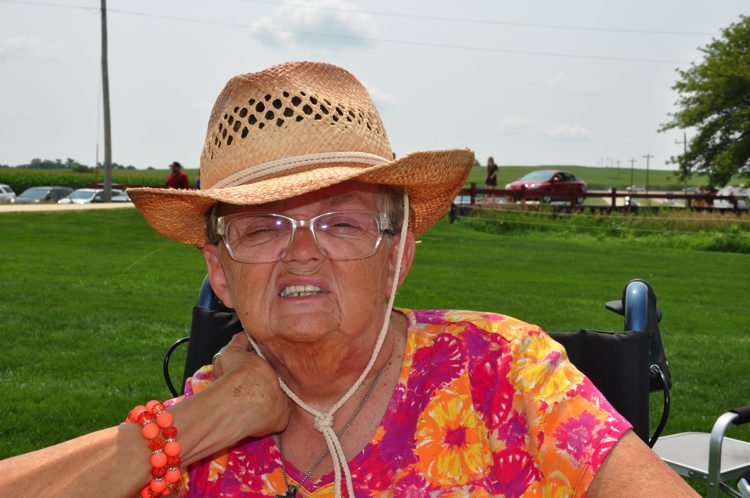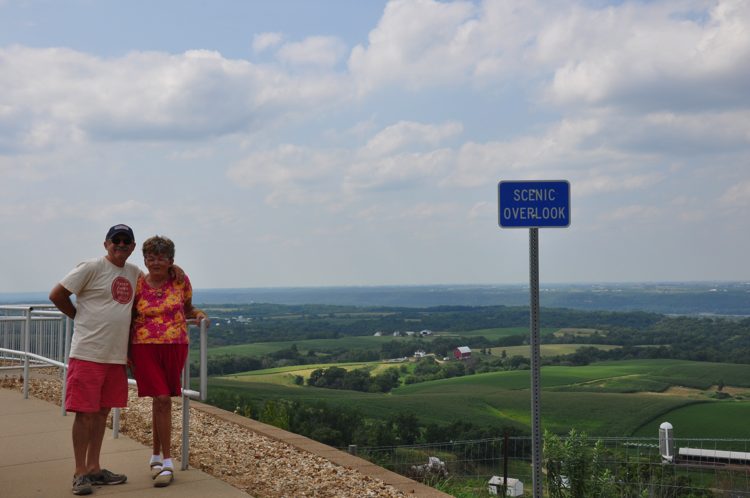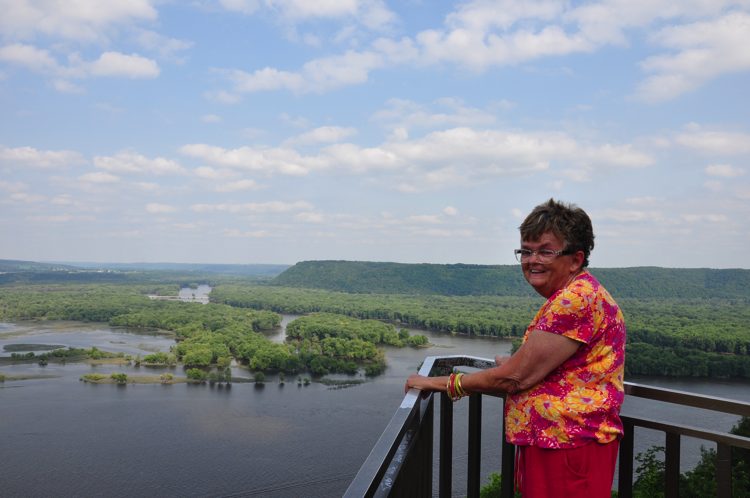 We drove through some darling little river towns, and enjoyed an ice cream break in the town of McGregor before driving across the bridge into Wisconsin. We intended to stop at Cabela's, but alas they were closed for the evening. Frank was heartbroken, natch.
When we returned to camp, Bob set up his drone again, and flew so high we could see the Mississippi river and the town of Gutteberg! As he flew the drone around the campsite, we all encouraged him to zoom across the cornfield just in front of our site. It was going great until Bob lost control (sort of!) and the drone crashed into the corn! I believe it was Bob's first experience tramping through a cornfield, and he was able to retrieve his precious flying machine and bring it back for cleaning and repair. Lucky for us he has spare blades.
Tomorrow we load up and drive to our second home-town, Chillicothe, Illinois. We're taking the fast route this time, as Lynne has had her fill of scenery for one trip. She is eager to see some more old friends. Susan and I are VERY eager to get back to an online connection. Just like Gilligan's Island: "No phone, no web, no internet, not a single luxury…like Robinson Caruso, primitive as can be!" Being off the grid has its pleasures, but we've both had more than enough of THAT!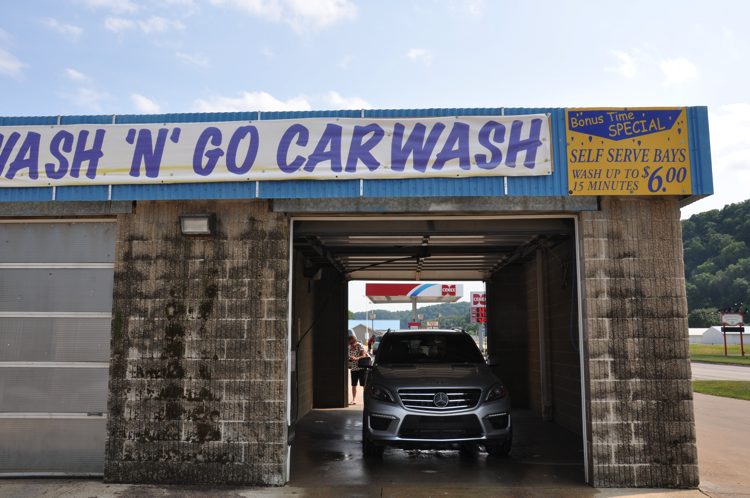 July 21, 2014
Leaving Iowa…searching for a phone signal…no luck…..
Oh, joy! The first rest area we came to on I-80 offered FREE wireless internet, so I was able to sit down with my laptop and update the photos and blog. Thanks to Aulpa for being ON IT for me.
Our first important stop was at our parents' old home on LaPrairie Center road, in the country outside Chillicothe. Another freaking abandoned house. So sad and disappointing to see. But we were able to visit with our folks' former neighbors, who still live there and were full of smiles and laughter as they talked to Lynne.
We saw a crop duster doing his amazing job, weaving through the hideous giant windmills. The windmills sure changed the landscape of the beautiful farm fields. I would have more to say about that, but this is a family-friendly blog! hahaha
Our campsite is alongside a lake created from old gravel pits, the Chillicothe Recreation blah blah. When I was in high school here, "The Pits", as they were known, was the location for high schoolers to party and drink beer. But I was a good girl and had never seen them! On our drive to the park, Bob and I were tooling along Truitt Avenue looking for the entrance, and finally pulled off at the Casey's General Store to ask Susan if we had missed the entrance. She laughed, because we were on the completely wrong road on the completely wrong side of town. Proof that I had never been to "The Pits'! Apparently I missed out on all the fun in my younger years.
The managers of the campsite checked us in, and we chatted about the various folks we knew in common — an advantage of small town life! Huge campsites with concrete pads, full hookups, oversized fire pits, and a beautiful view of the water. But when they handed us a sheet of their "rules and regulations", it nearly spoiled the deal for us. They have a LOT of rules! I'm guessing it's because of the reputation as a party hang-out back in the day. Whatever the reason, we weren't happy that the lot was locked at 6pm requiring a padlock and NO GUESTS unless they were notified before the office closed. We had arranged for a few old friends to come by to hang by the fire and cook hot dogs. It turned into drama, drama, drama. We're all fairly comfortable breaking rules when it's necessary, so we figured out a way to get our friends in and out of the park, so were able to enjoy some visiting time. But if you ever consider staying at this park, be aware that the management is a bit on the controlling side, and the feeling of being locked in at night takes some getting used to.
Frank and Bob were able to throw a line in the deep, clear water and snag a few fish. It really is scenic. There seemed to be a constant breeze, and in spite of the heat and humidity sitting outdoors in the shade was very pleasant.
They have an area of the campground they call THE GHETTO, and boy, the name is appropriate. Do NOT stay there unless you know what you're getting into. Wowza…it was a dump. But the rest of the campground is truly beautiful.
July 22, 2014
Susan and I drove Lynne all around Chillicothe, seeing all of the old houses and apartments where we lived over the years. We stopped in Santa Fe Park to see the brick with our dad's name on it in the circle honoring railroad employees and their families. Susan and Frank used to live directly across the street from the park, and we were able to add that house to the list of houses that had gone downhill since we moved. Man, oh, man, nothing stays the same! Our family house on Manning Drive was the one exception…it had improved over time. Nobody would ever accuse our family back in the 60s and 70s of taking good care of our house or yard!
Big highlight for me: I was able to buy a cappuccino in downtown Chilli. That was a true surprise. In spite of the very high temperatures and high humidity, I walked a bit to snap a few photos of memorable buildings, including the Town Theater where movies were 50cents "back in my day".
No cooking for us on the last night. We headed to one of our old favorite joints, The Blarney Castle, down along the Illinois River in Rome. Thin crust pizza (yum) and strawberry pop on tap. The stuff of dreams. Much to my dismay, after I ordered, the waitress informed me THEY DON'T HAVE STRAWBERRY POP ANYMORE!! I wish there was a place to file a formal complaint. No strawberry pop at Blarney Castle? What is this dang world coming to?!
July 23, 2014
Today we packed up and headed back towards Indy.
We had the privilege of taking a tour of the tornado damage and devastation left from the huge storm (November 2013) in Washington Illinois. My high school friend Mike Vaughn is the fire chief there and drove us around the small city. He was able to tell us some pretty harrowing tales, all from first hand experience. He was actually awarded the Medal of Valor from the governor of Illinois for his bravery during that terrible time.
At the recommendation of Mike and his fellow firefighters, we ate our lunch at Busy Corner in Goodfield, Illinois. Oh, my gosh, what a find! The food was really good, the service was great, and their homemade pies were EXCELLENT. It's actually worth driving there just for pie. Amazing stuff, and a great way to end our trip!
We hit the border into Indiana with a HONK, as we always do when crossing state lines. Our big week away was complete, and Lynne's Excellent Adventure came to an end.