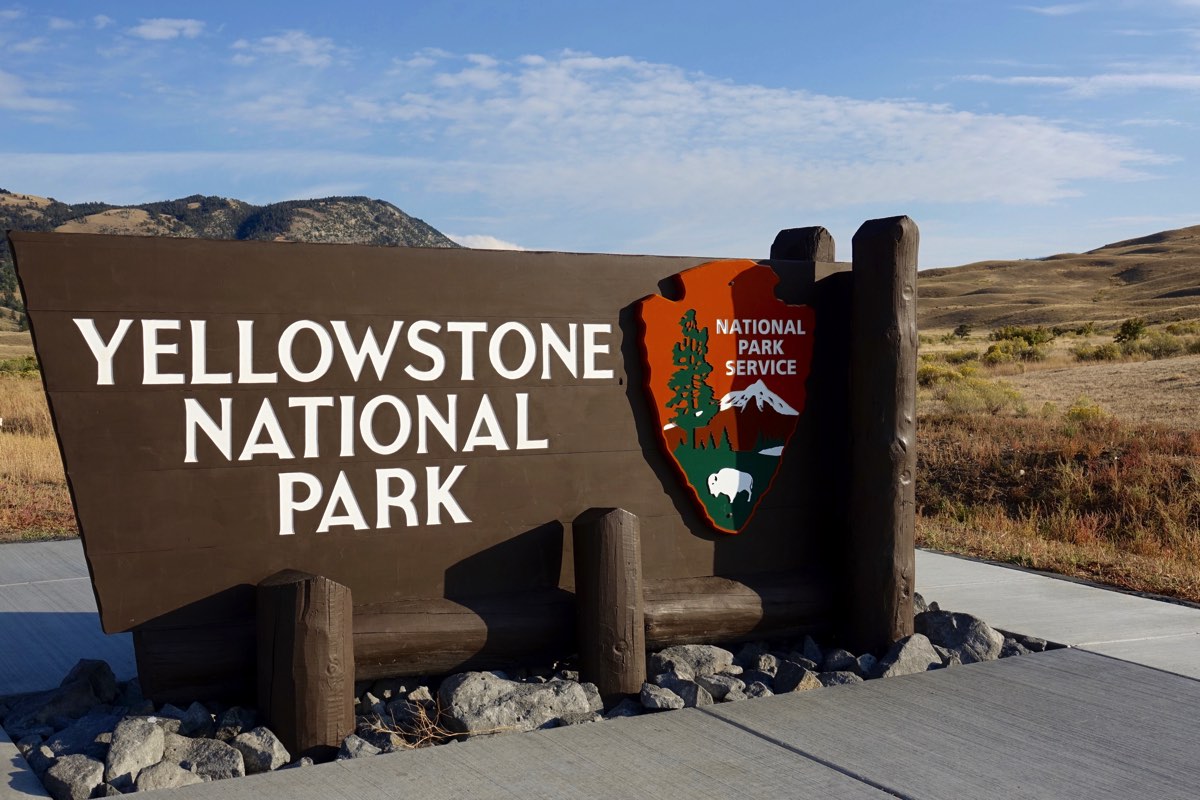 Yellowstone was not a primary destination for this trip, but we're glad we took the time to make a drive through. I'm sure if we had stayed for several days and camped nearby, we would have had an even better time. As it was, we drove slowly through the park and enjoyed several special moments.
Because we visited in late September, the park was not terribly crowded and we didn't experience the delays we've heard so much about. We did have to stop at one point for a few big horn sheep that were lounging around at the side of the road.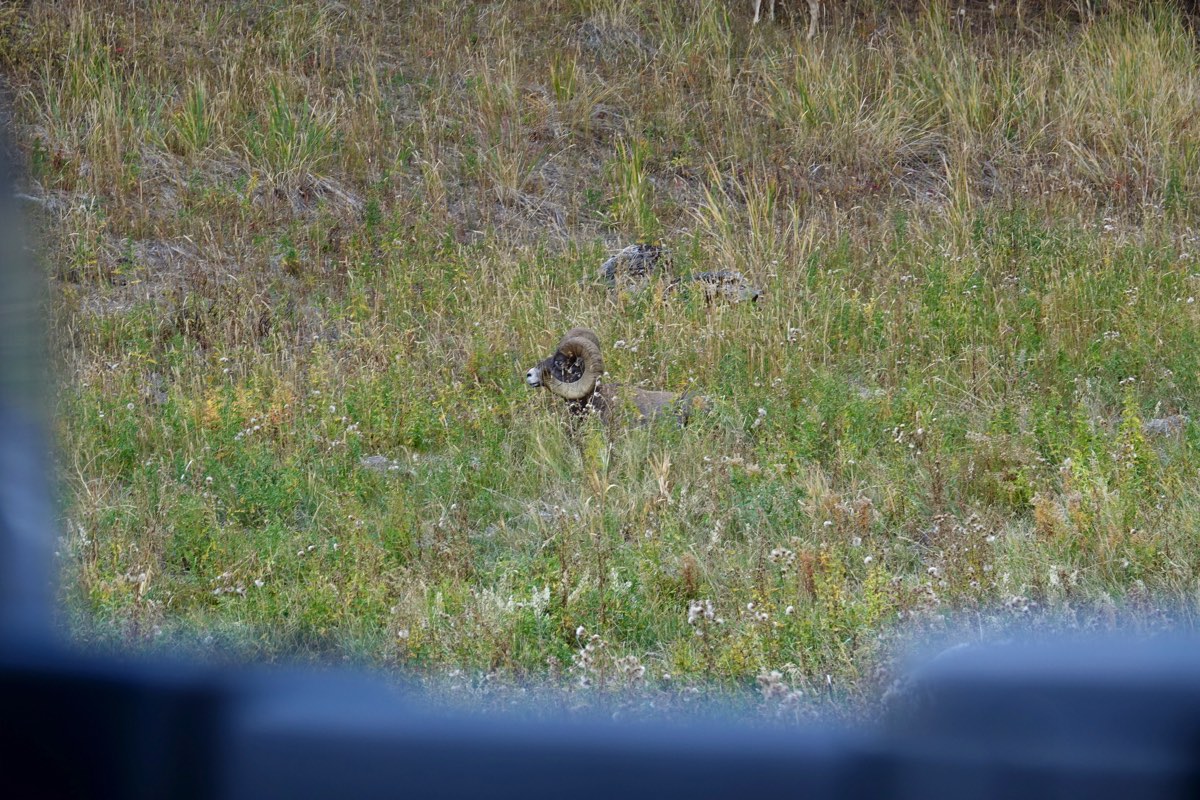 Bob tried to capture a good image, but the line of cars moved by the time we got to the sheep and we almost missed them!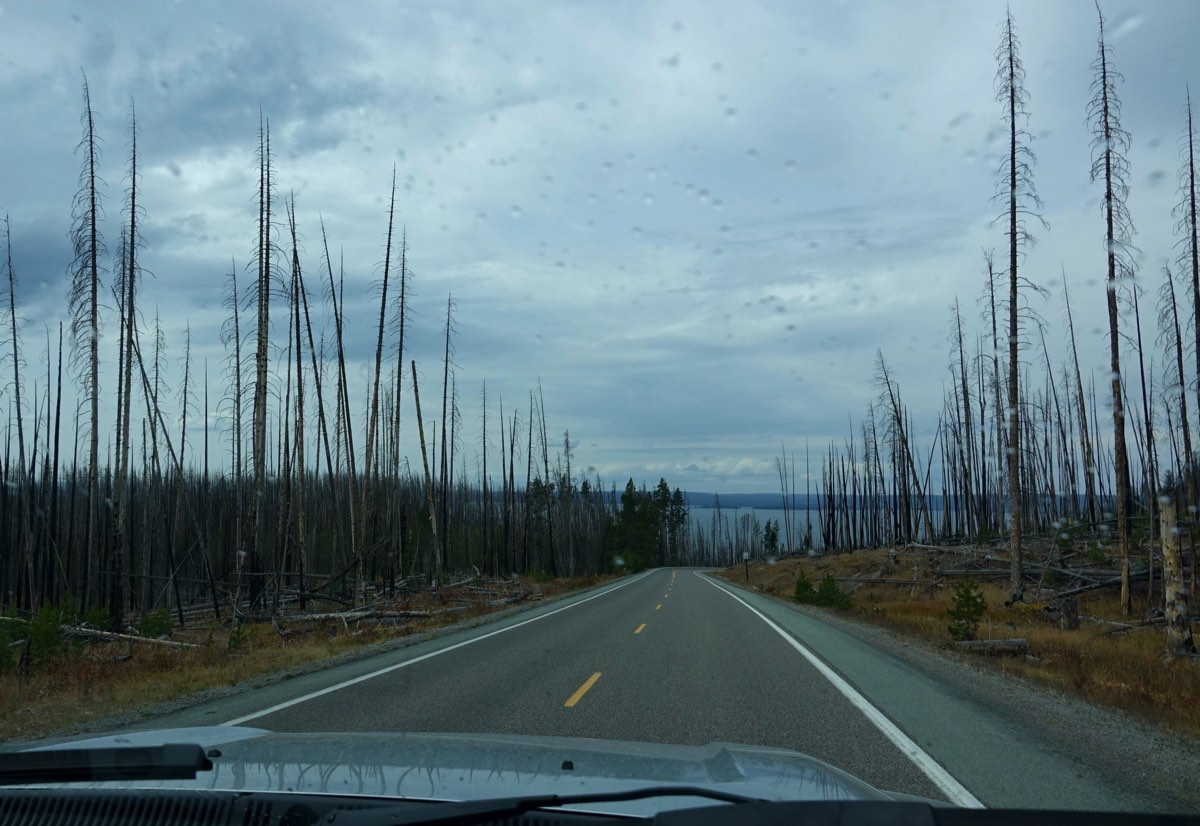 It was immediately obvious that Yellowstone has had some forest fires
The park is lovely, of course, but we felt the drive through Bighorn National Forest was actually more thrilling! Because we didn't have the time to visit all the geysers and more unique features of Yellowstone, we saw it as a beautiful mountain drive with a little wildlife mixed in. We saw more wildlife in the official park village than anywhere else!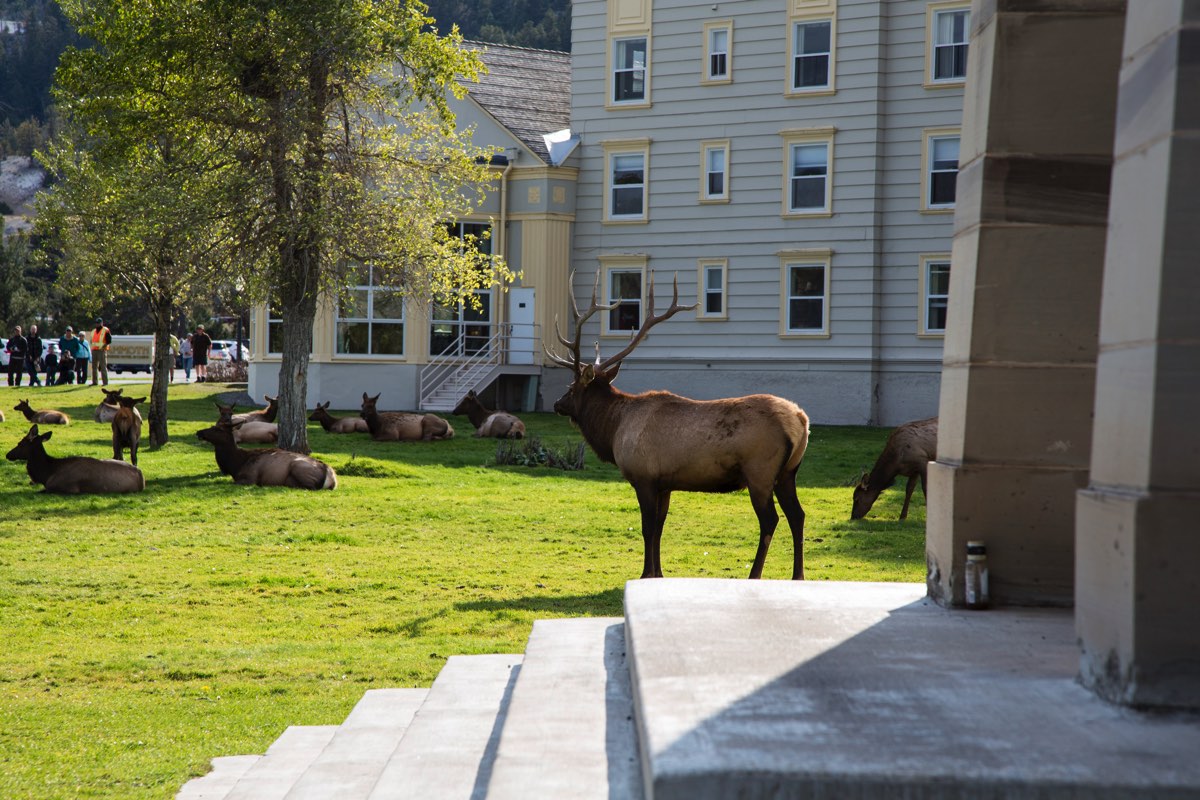 One of the best things we saw that day was the Grand Canyon of the Yellowstone. Now THAT is a magnificent view! We parked our rig and walked the easy paths and trails for better views. If you visit the park, be sure to check out all the vantage points.
Bob spent time at the canyon capturing images of the falls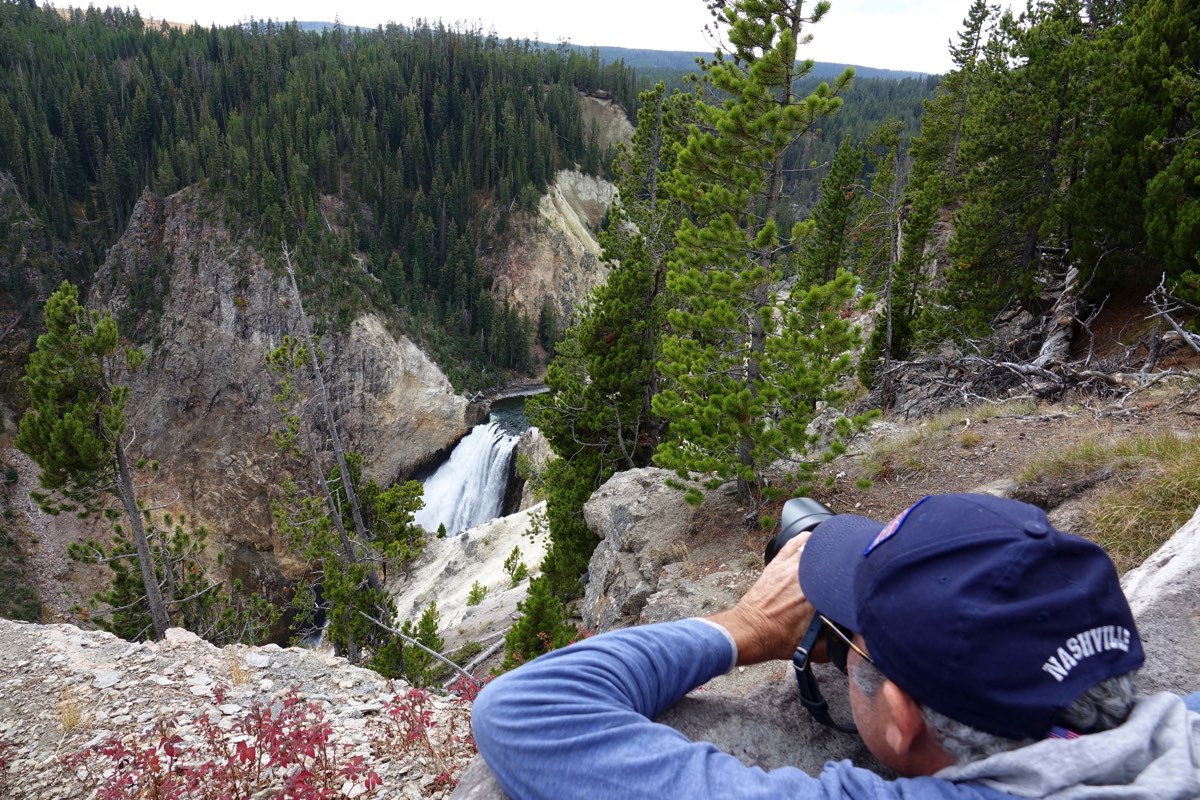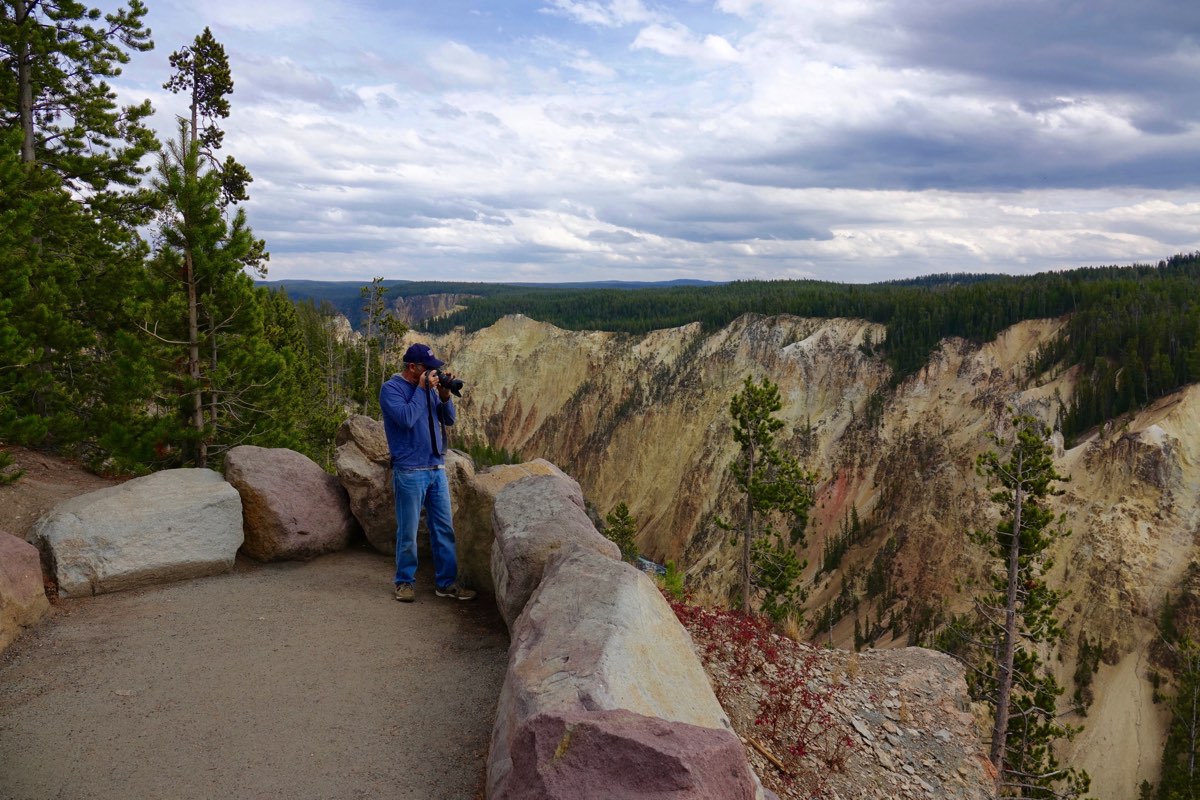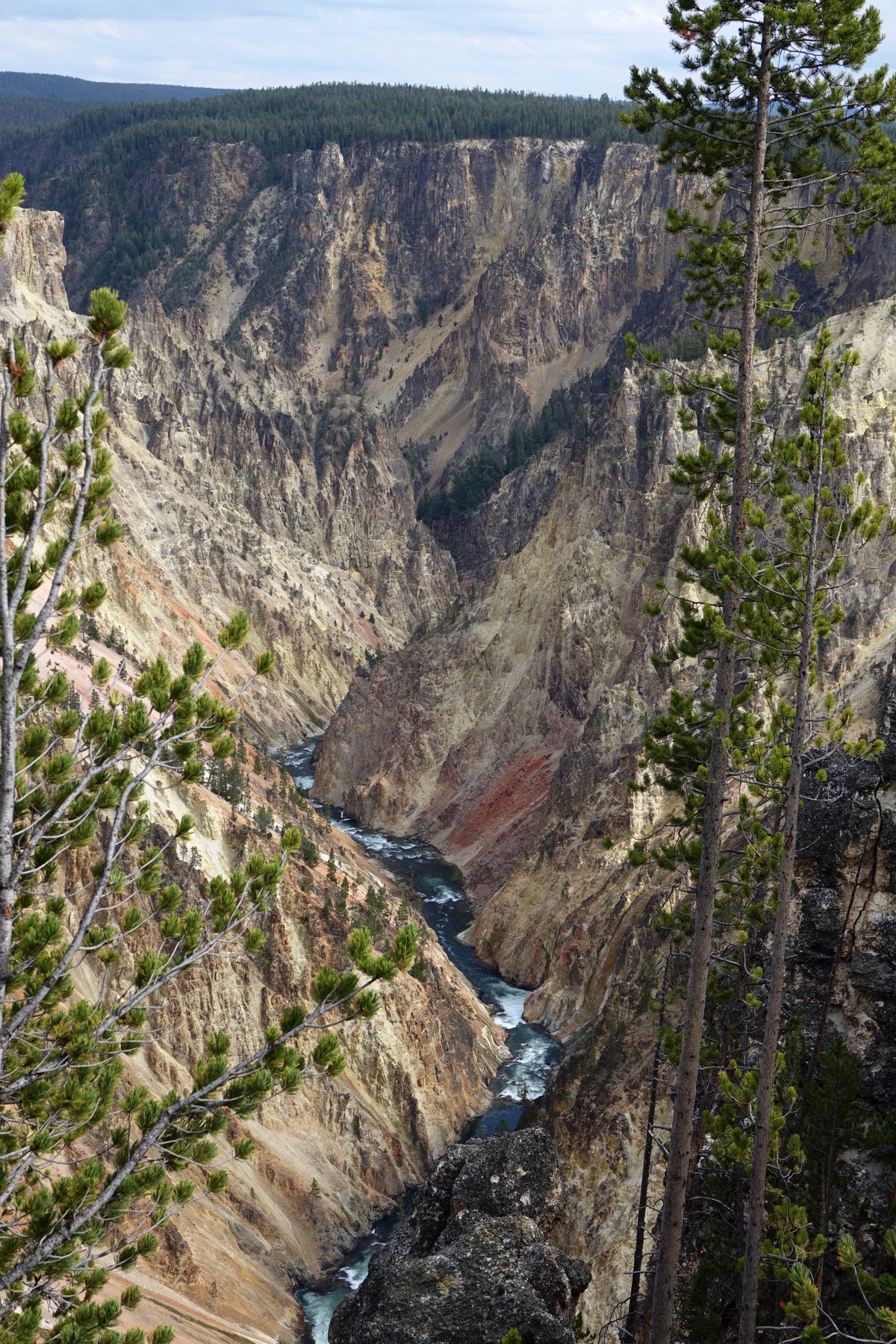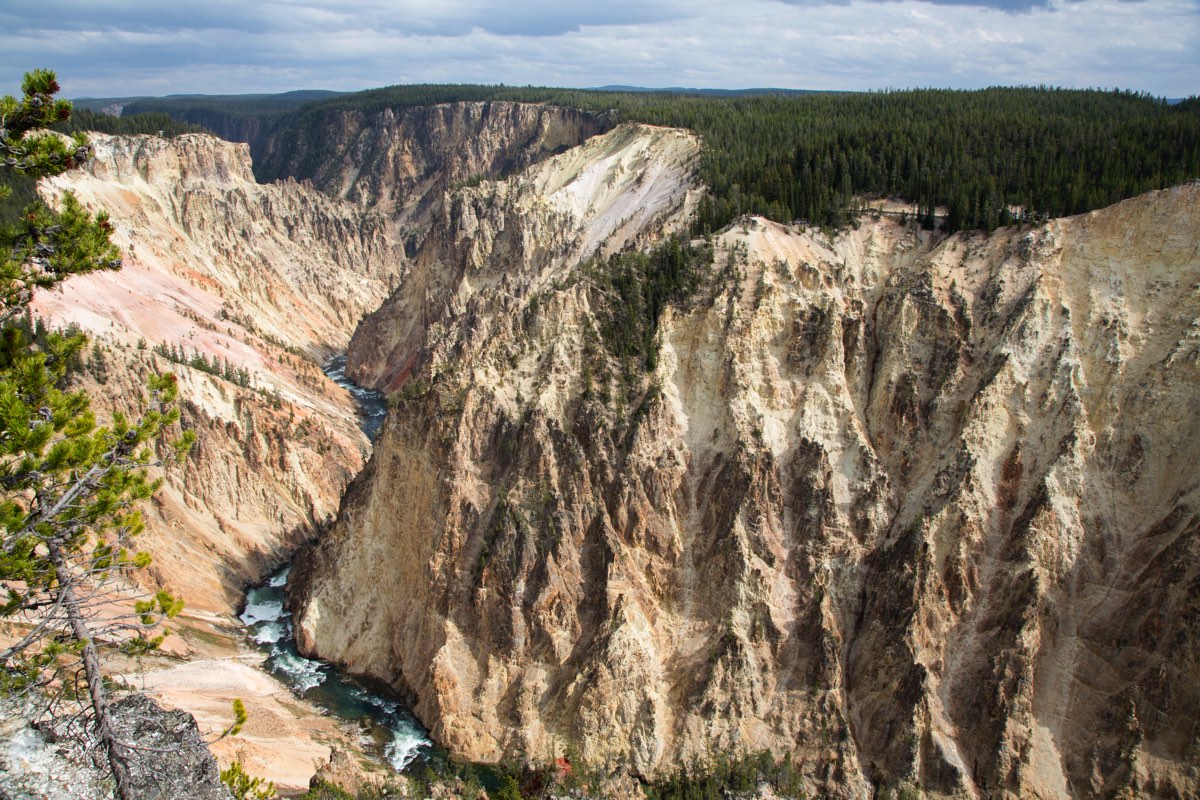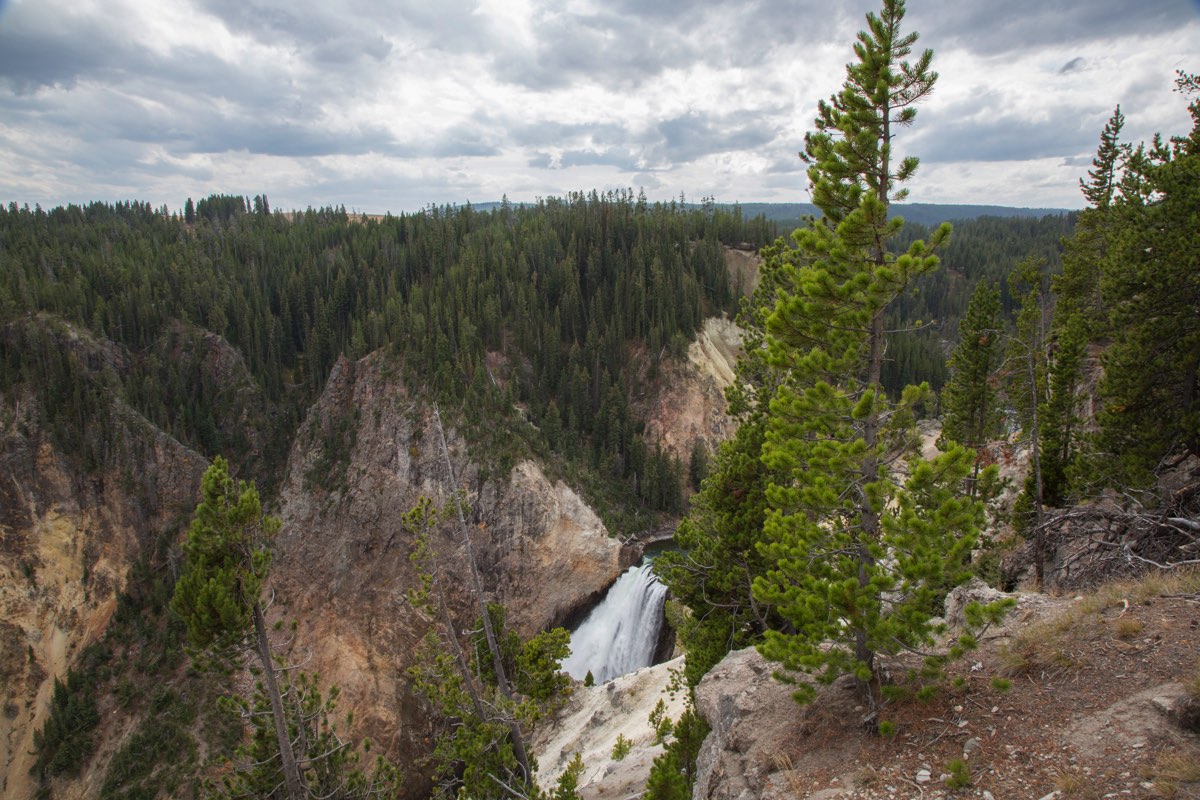 Our favorite experience of the day was the unexpected beachside picnic lunch we enjoyed along Yellowstone Lake. We had just driven through a burned area of raw looking tree trunks, and I commented on how dreary the view was. Just then we made the turn to see Yellowstone Lake, noticed a large motorhome pulling away, and jumped at the idea of making a rest stop for the dogs. Little did we know we'd have the entire beach to ourselves for an hour or so. I wonder if people don't realize they can pull right out along the water…why else would it be empty? We felt quite privileged to enjoy such a private spot in this popular park.
As we made our way out of the park, we saw a little more wildlife…a bison and an elk! Yay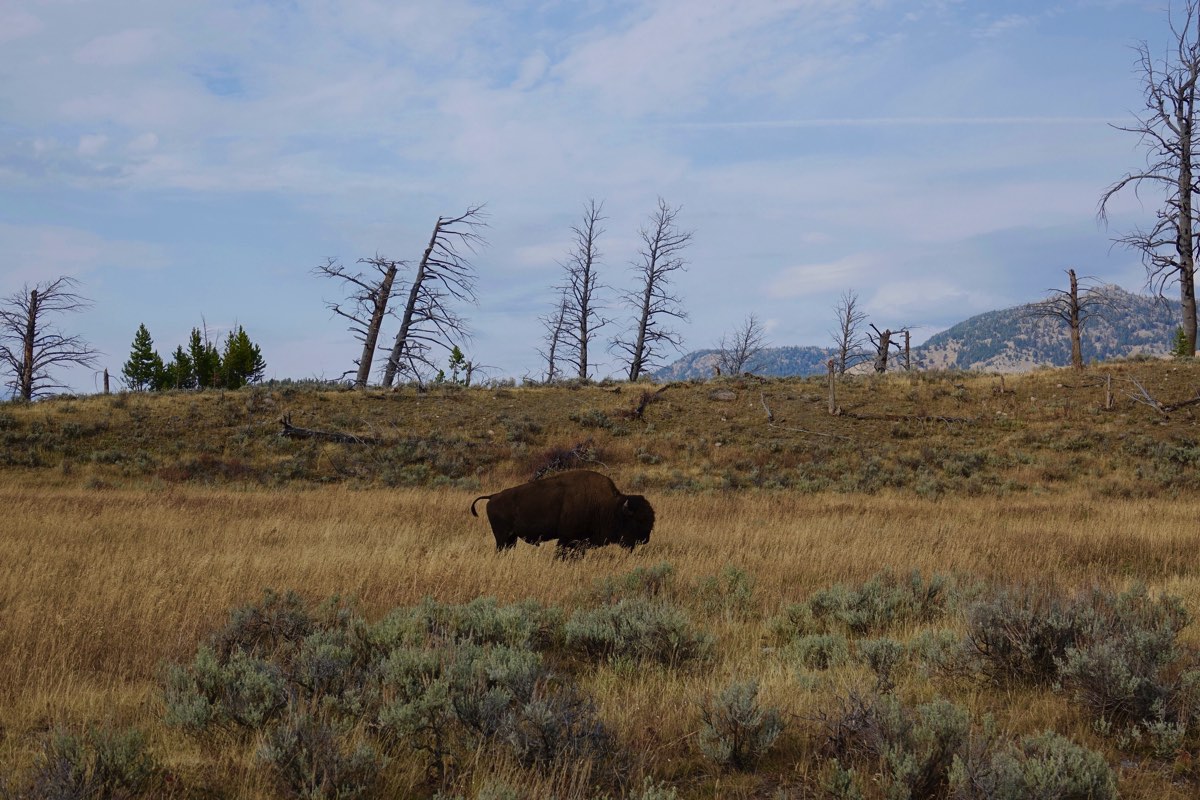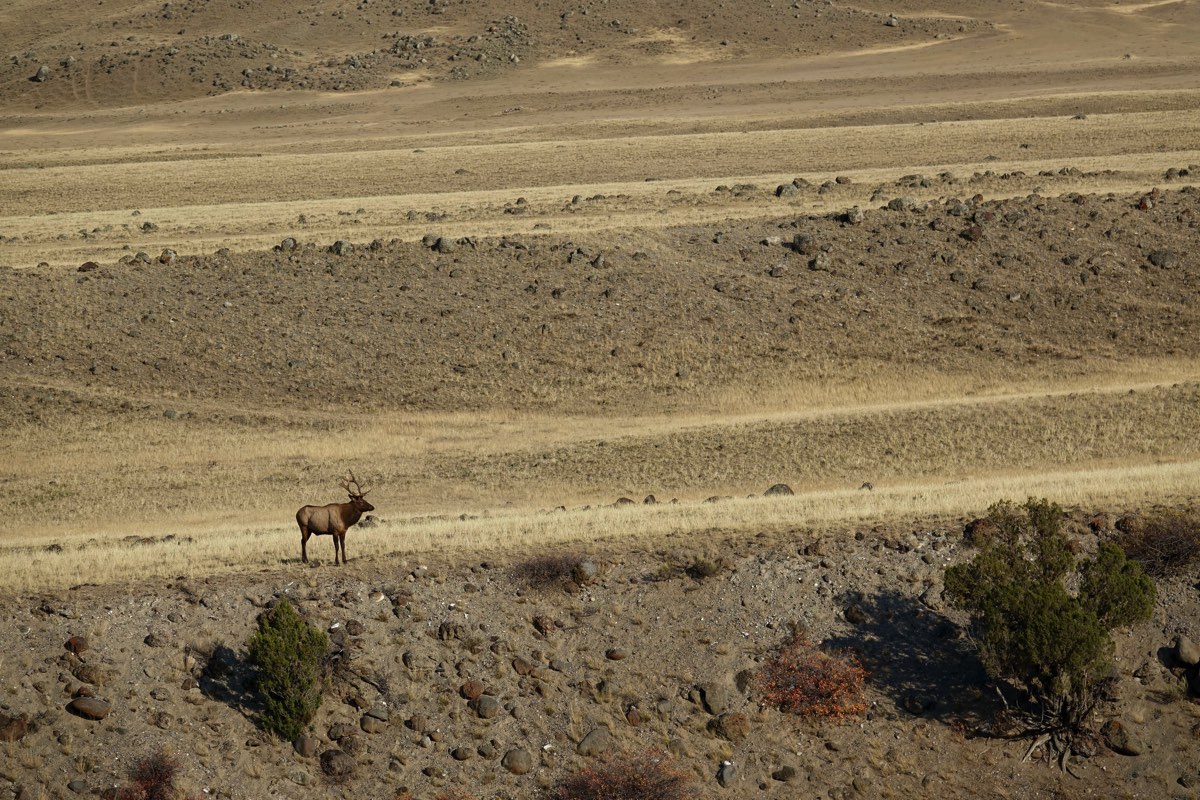 When we arrived at the North entrance, we parked long enough for me to scramble over to the famous stone entry arch and make a quick video of the June Bug departing through that iconic entry.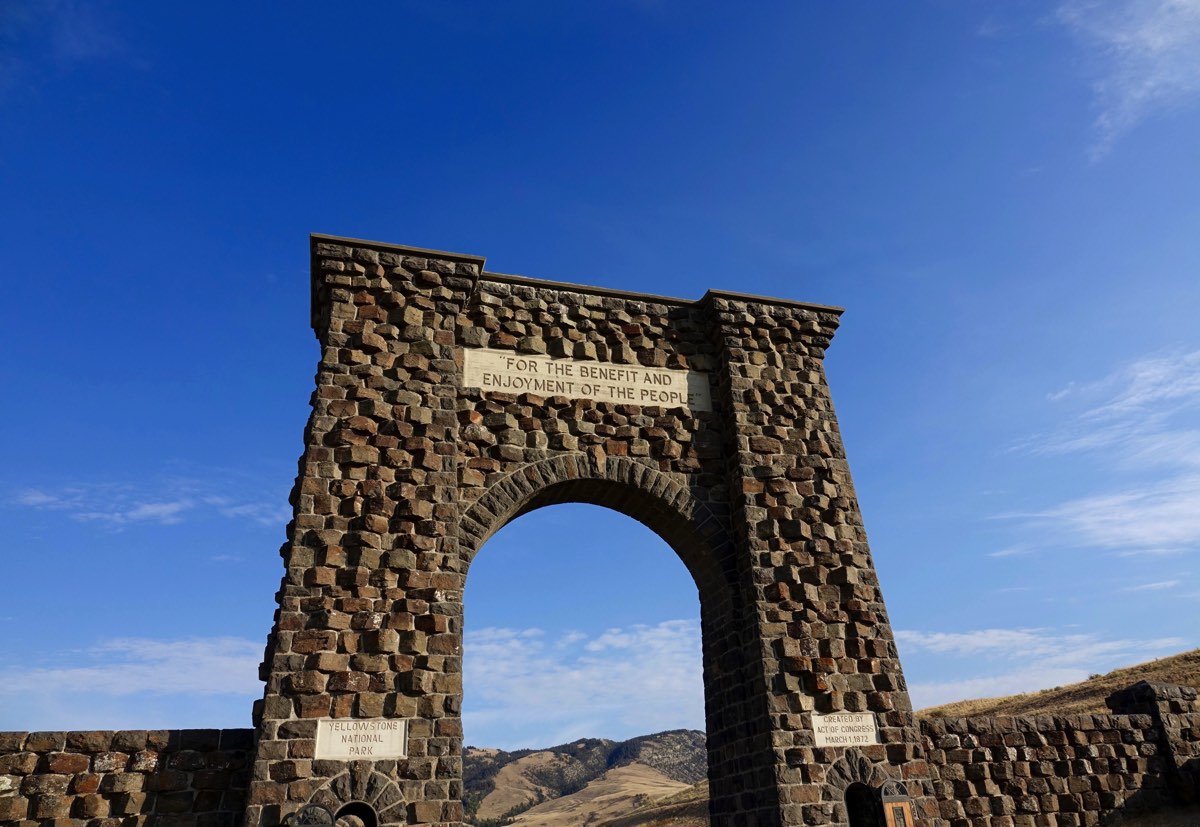 Only a few campgrounds inside Yellowstone were still open this late in the season, and all of those were full. So we looked online for an alternative and found Yellowstone's Edge, south of Livingston. Thank goodness for the internet and a cell phone signal! It's kind of funny they call themselves Yellowstone's Edge, because it was 35 miles away. We were able to stay the night with full hookups and a lovely site right along the river, and saw a couple of eagles right outside our dinette window! This RV park is run by a fantastic couple and they do an excellent job of maintaining a beautiful park with clean facilities and manicured sites. Because we had real electricity, we recorded June Bug Podcast number 5. I hope you listened. I also did laundry (nice laundry room with 4 washers and 4 dryers) and we prepared for a week of boondocking in Big Arm at Flathead Lake. Stay tuned!