Spearfish Canyon
When we began planning this long trip to the northwest, Bob and I listed places we "wanted" to see, some we "hoped" to see, and a few that we felt were "must" see locations. Spearfish Canyon was not on any of those lists, because neither of us knew it existed. In fact, we pored through many travel blogs over the months, and not a single one that we read ever mentioned it. So imagine our surprise when we drove out of Spearfish City Park toward the canyon on US 14A and saw this: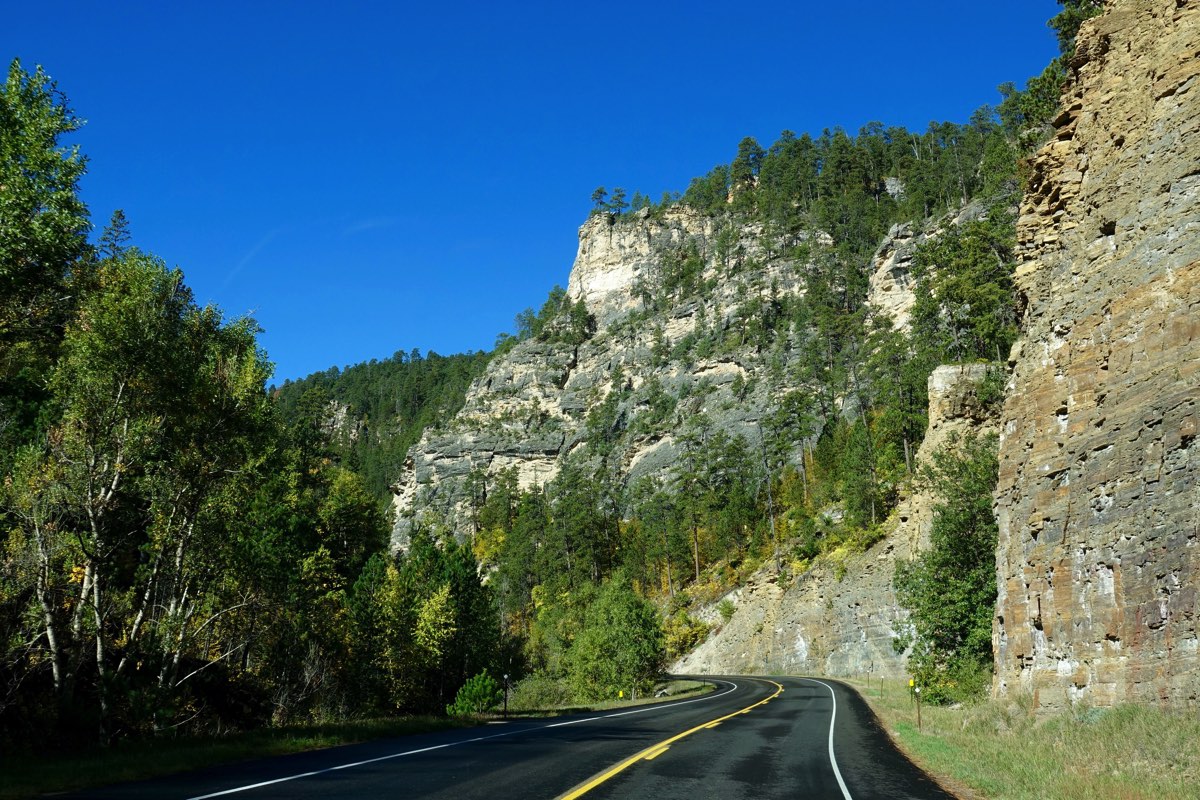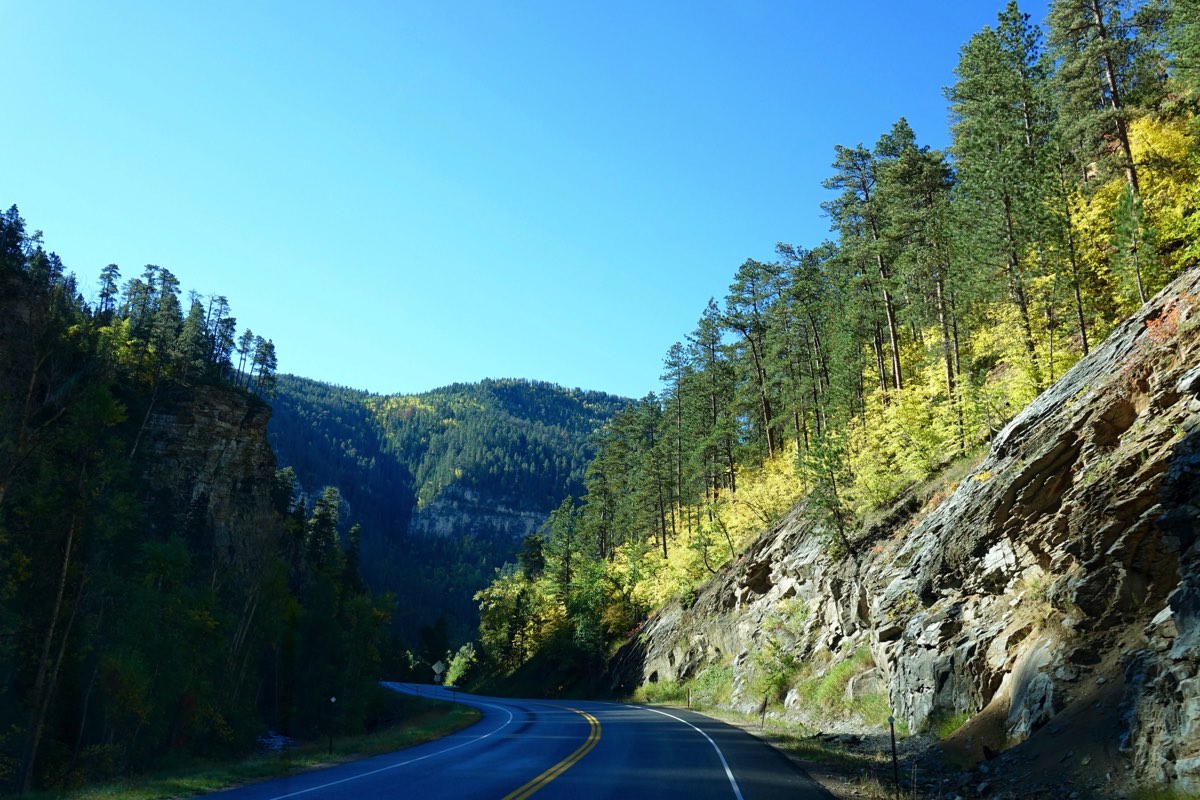 Highway 14A follows Spearfish Creek as it winds down into the canyon, with scenic spots highlighted on the little map we picked up at the gas station. We didn't make any stops on the way in because we were towing the Airstream, but we made note of the special places we wanted to be sure to see later. At Savoy, we turned into what looks like the parking lot for a lodge, but is actually Roughlock Falls Road, a dirt road that continues into the canyon. If you make this trip, you should know that the dirt road is smooth, wide and firmly packed. We made the drive in and out several times and it didn't present any problems for towing.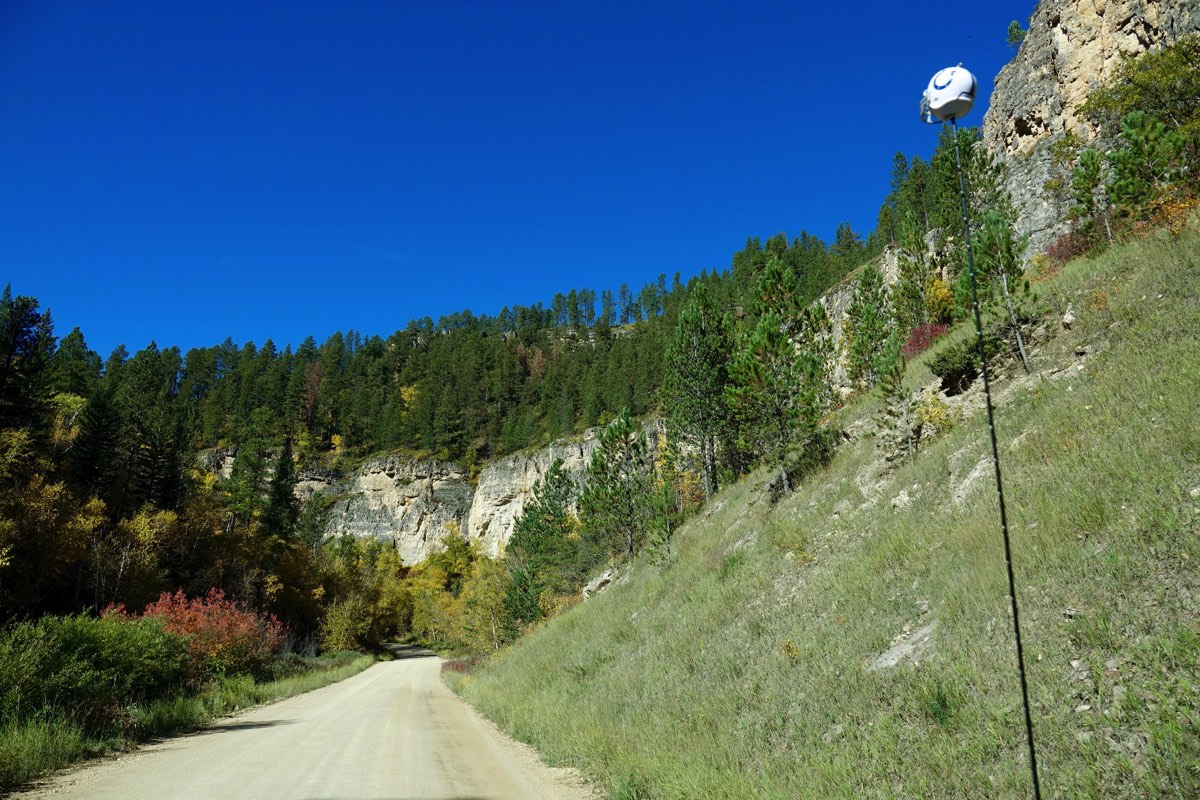 Notice the little Colts helmet on our antenna that's traveled all these miles with us!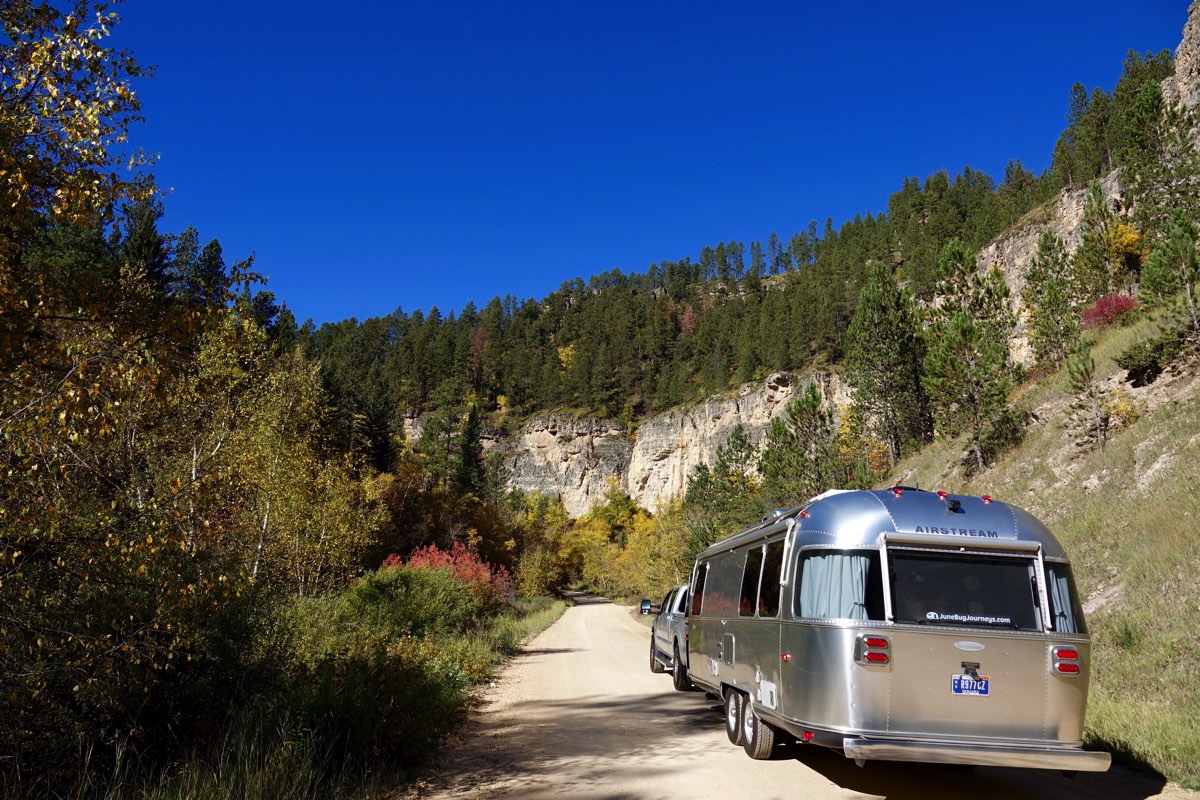 There are two campgrounds on Roughlock Falls road, both within the Black Hills National Forest and only a couple miles down the dirt road. We chose the Rod and Gun Campground because we liked the name (!), and came upon it first. Seven campsites and no facilities except a vault toilet, which I will only use OVER MY DEAD BODY. (There's a reason we travel around with a lovely Airstream trailer. Teehee.) Also…of note…because we are traveling late in the season, this campground was FREE.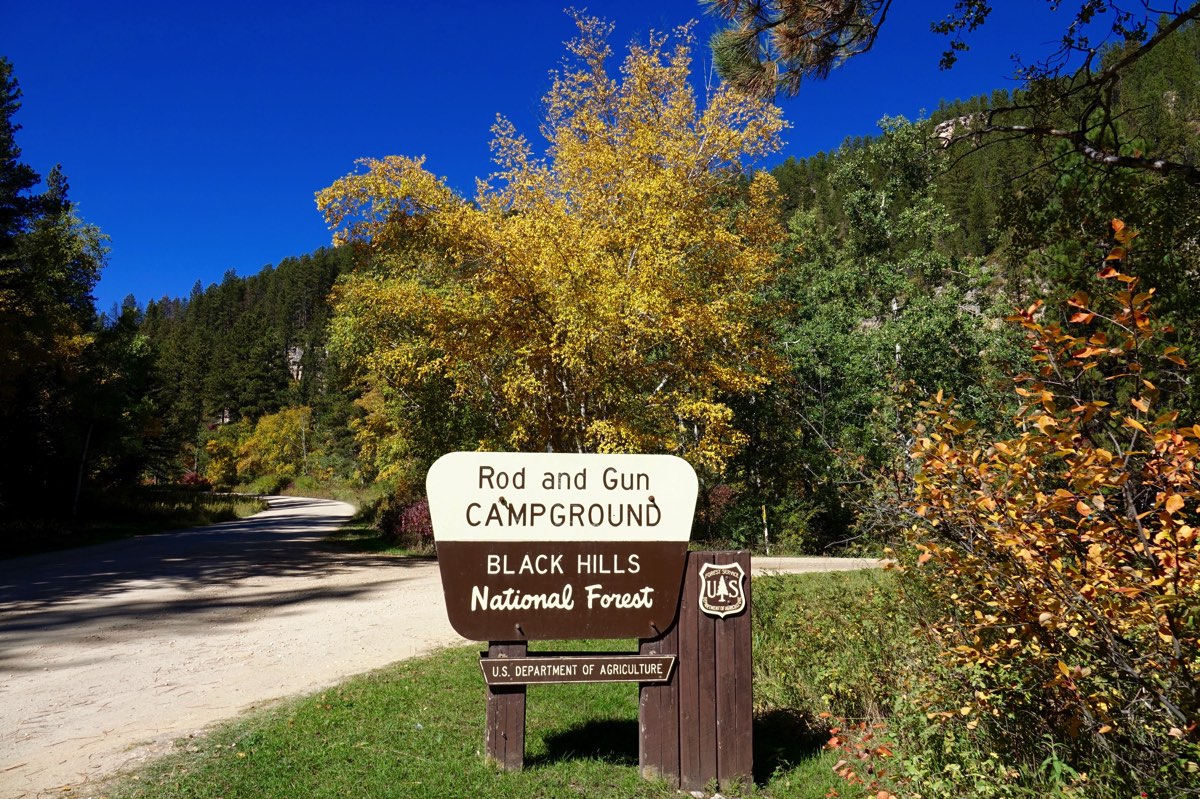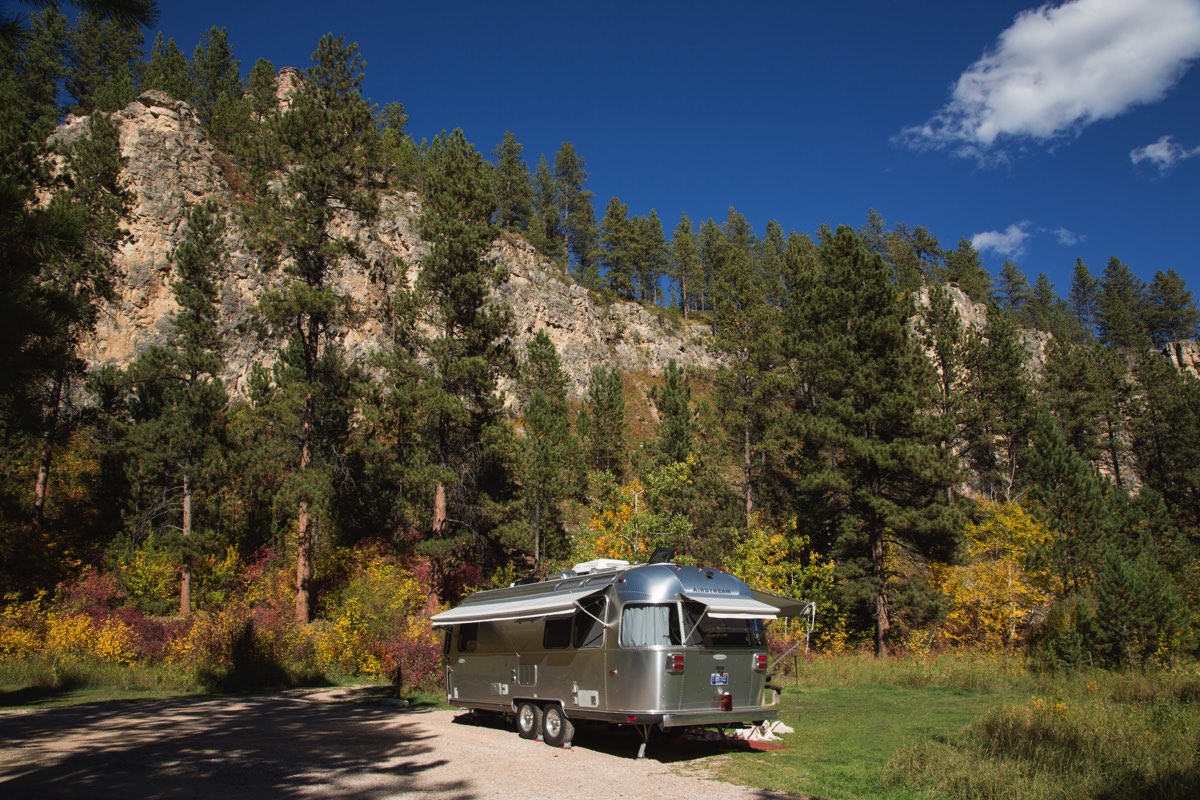 We chose site number 1, situated next to a little babbling creek and couldn't have been happier with it.
The Black Hills National Forest is just full of beautiful hiking trails. I went out exploring a couple of times and one thing that really struck me was the silence when I got high up in the mossy hills. Complete silence! I couldn't convince Bob to join me on any hikes because he was happy as could be hanging by our beautiful campsite with the dogs.
Leaving the beautiful Rod and Gun Campground – Look at Bob's excellent maneuvering!
Devils Tower
Now THIS was really something to see. The highway curves through some very pretty countryside and then all of a sudden..POP…there's that giant bump in the distance, growing closer as we made each turn. Seriously, every time the road curved, it was bigger and bigger. Unfortunately, photos can't possibly convey how enormous and grand the tower is. We felt fortunate that tourists are allowed to walk up very close and hike all the way around. The sheer size was actually startling as we began to walk closer. From a distance, sure, it's big. But WOW it's just giant.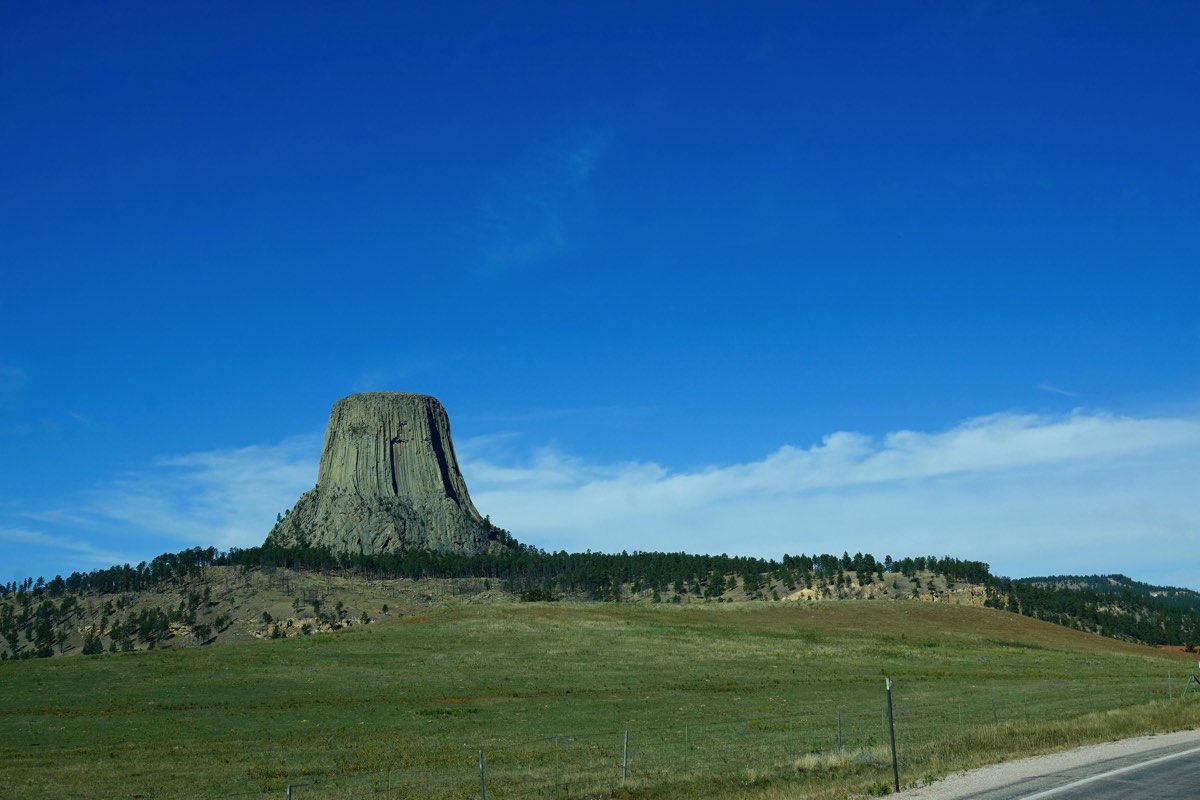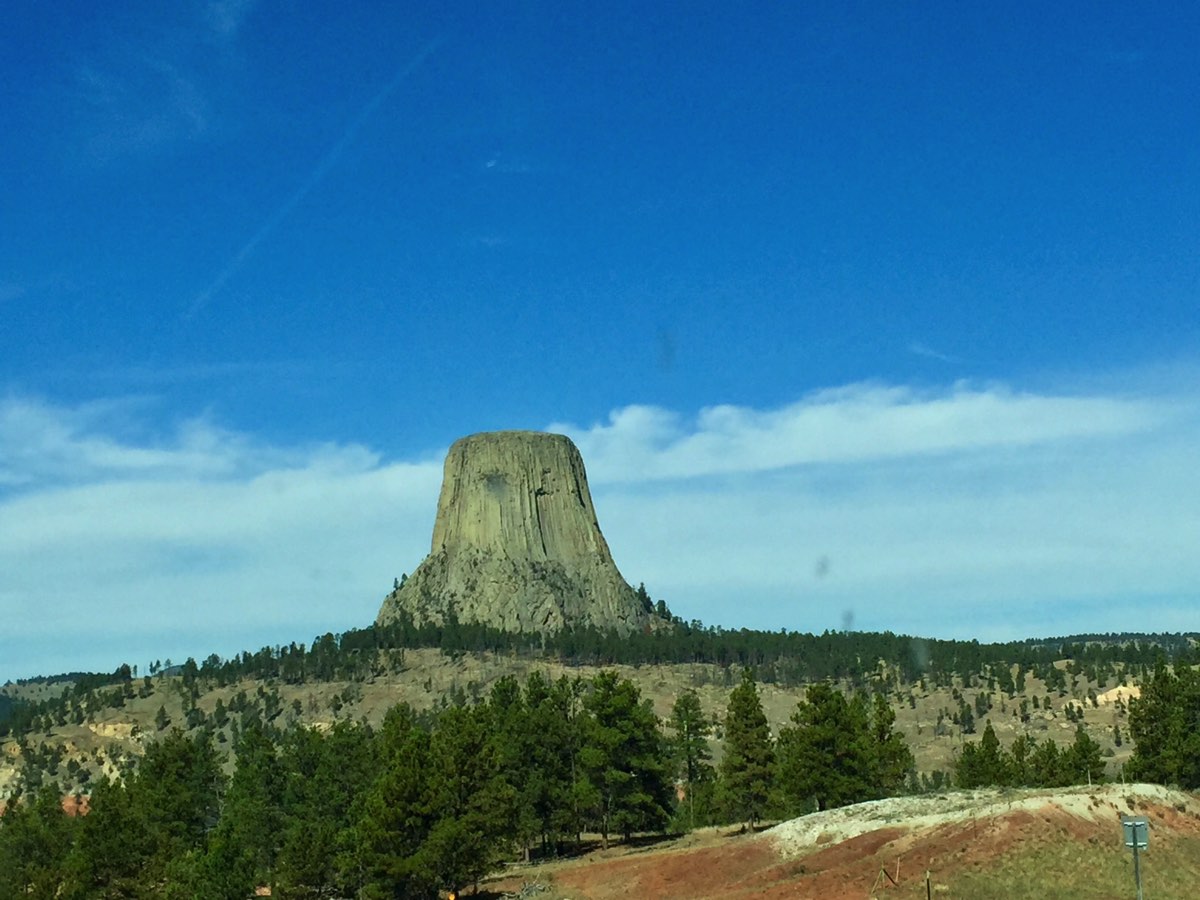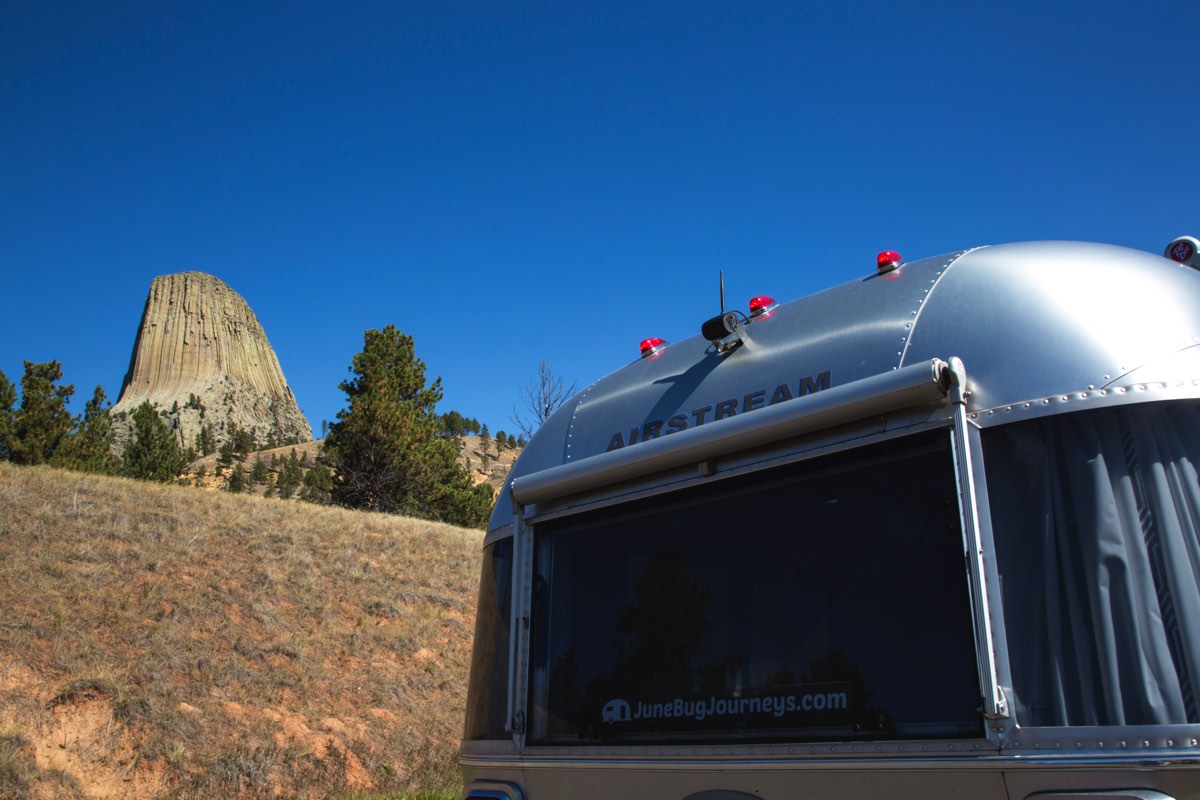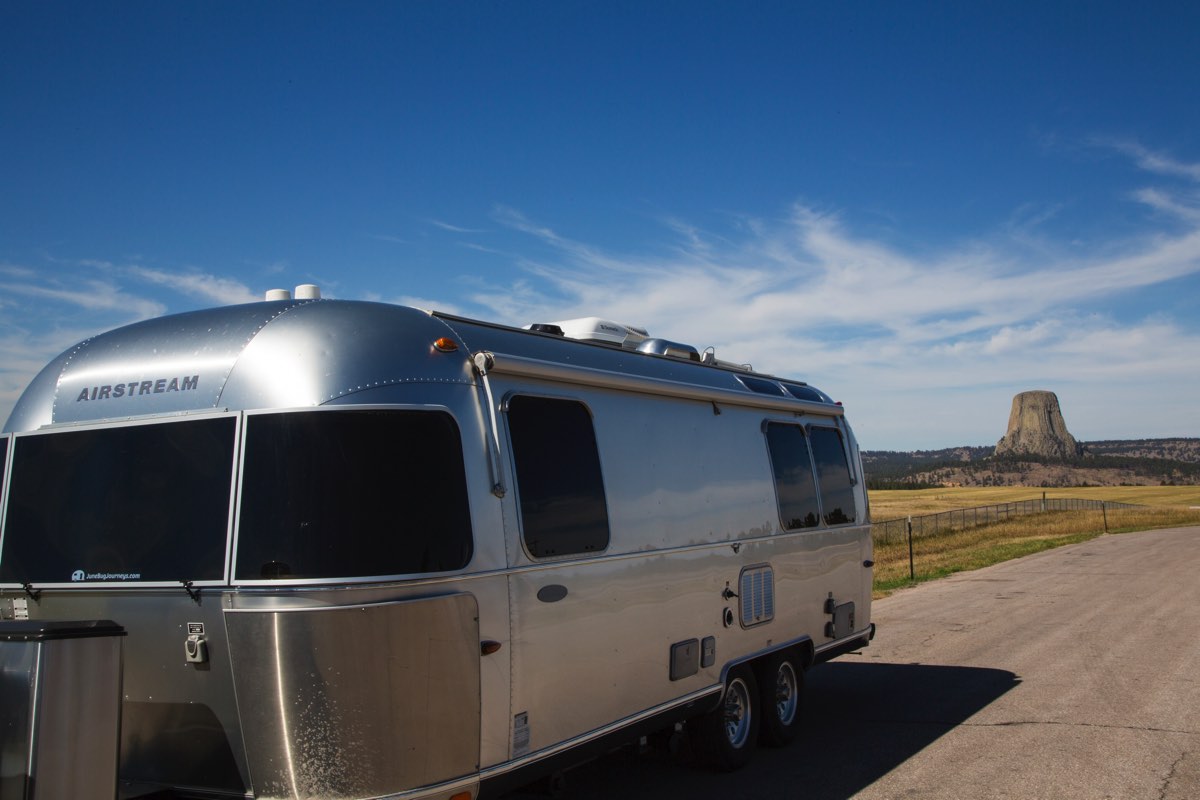 My new camera lens has some kind of nuclear powered zoom lens and I zoomed in on a couple of climbers making their way to the top. People are crazy! From the base of the tower, it was impossible to see that there were actual humans clinging to the side, but as I zoomed in there they were inching along their way. I wonder if there is any way for you, our readers, to help find out who this pair is so they can have copies of these images. Look at the detail my lens captured!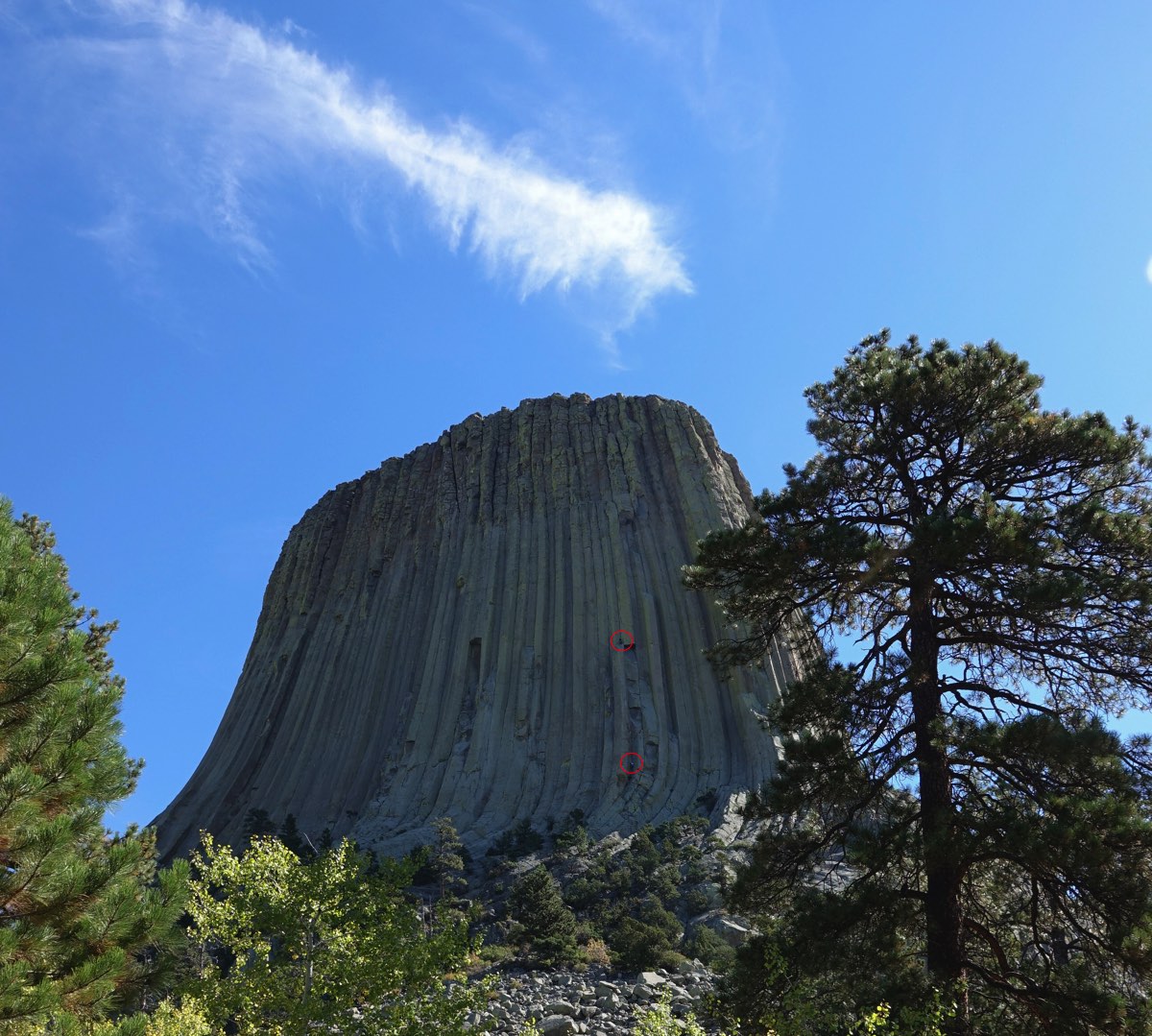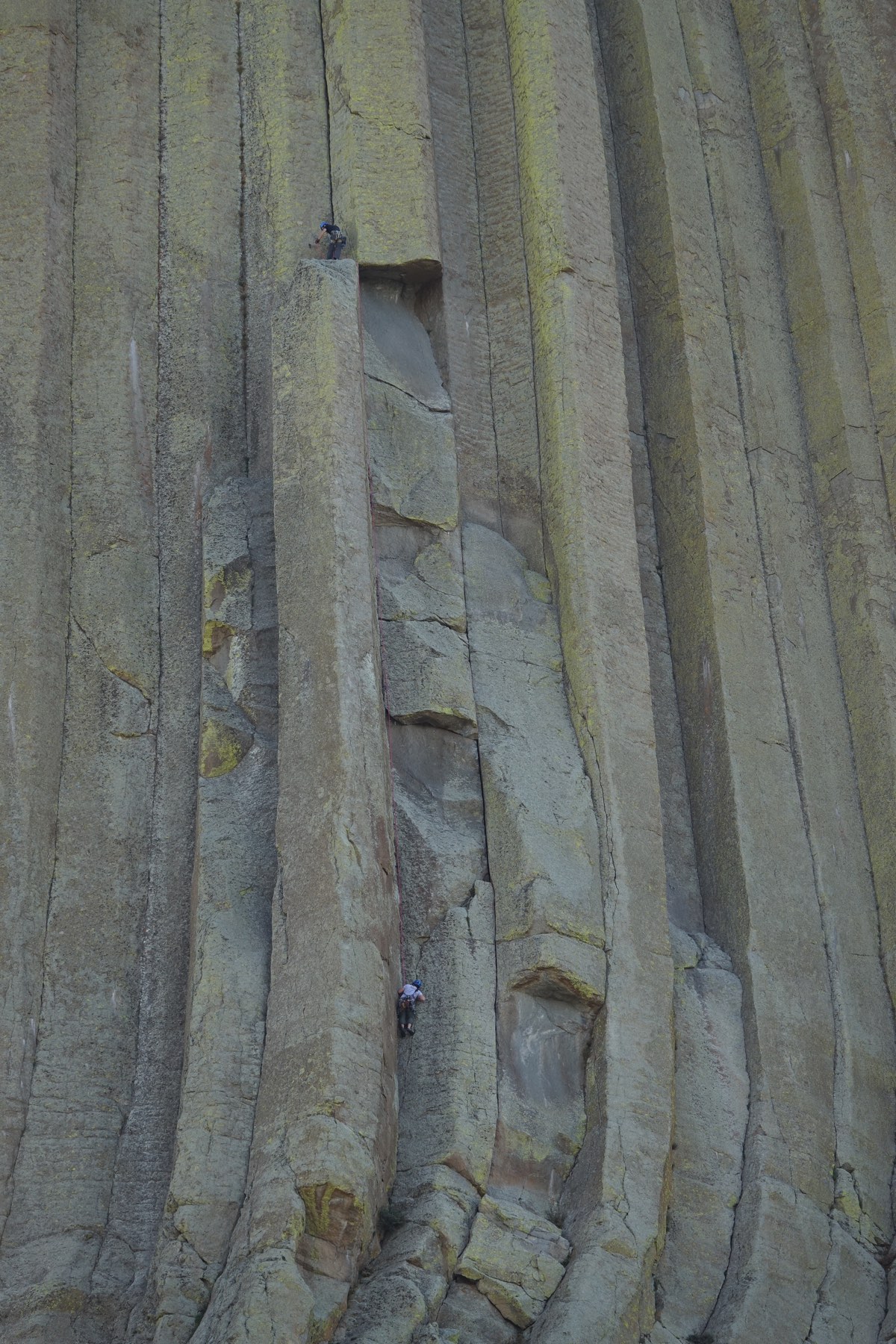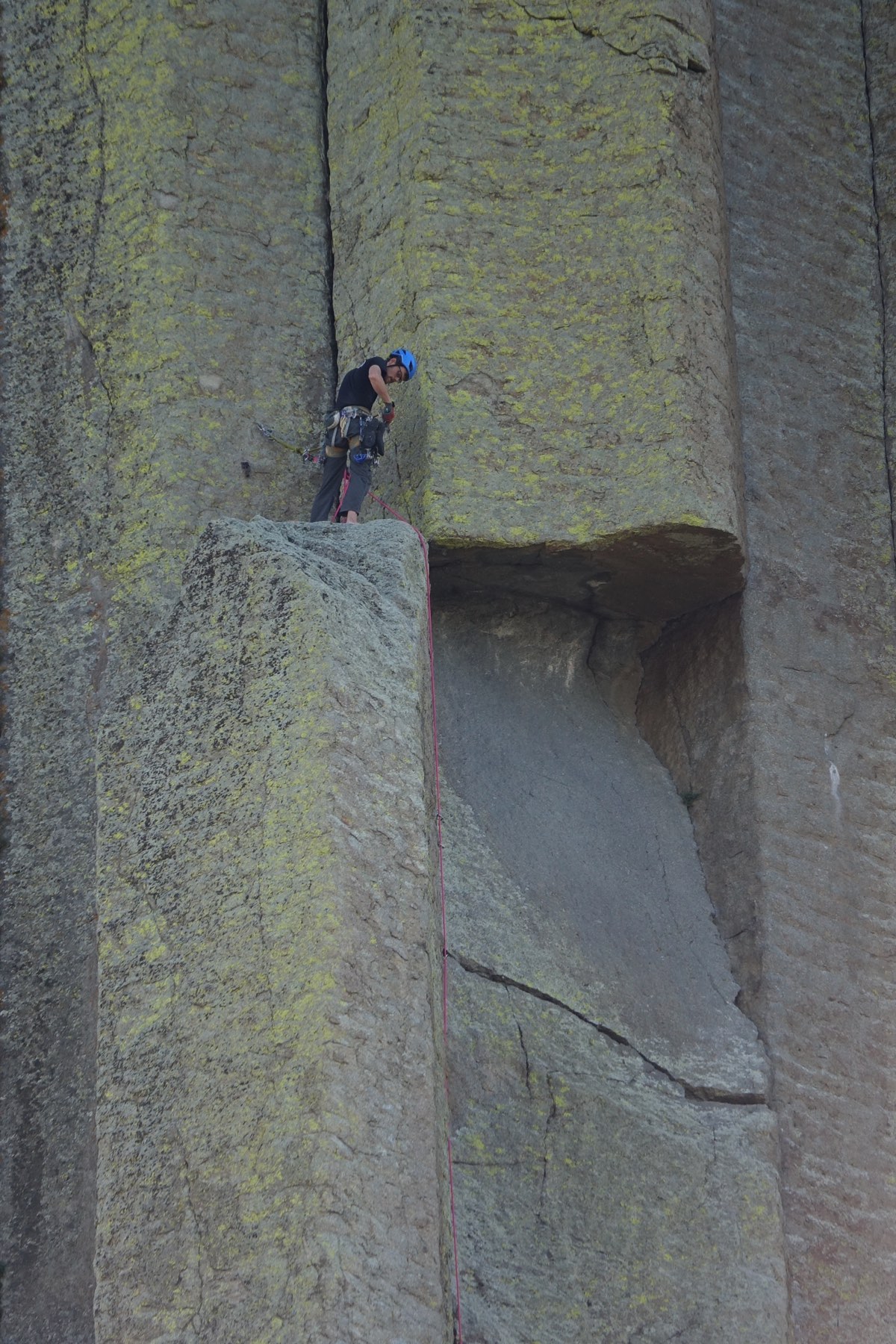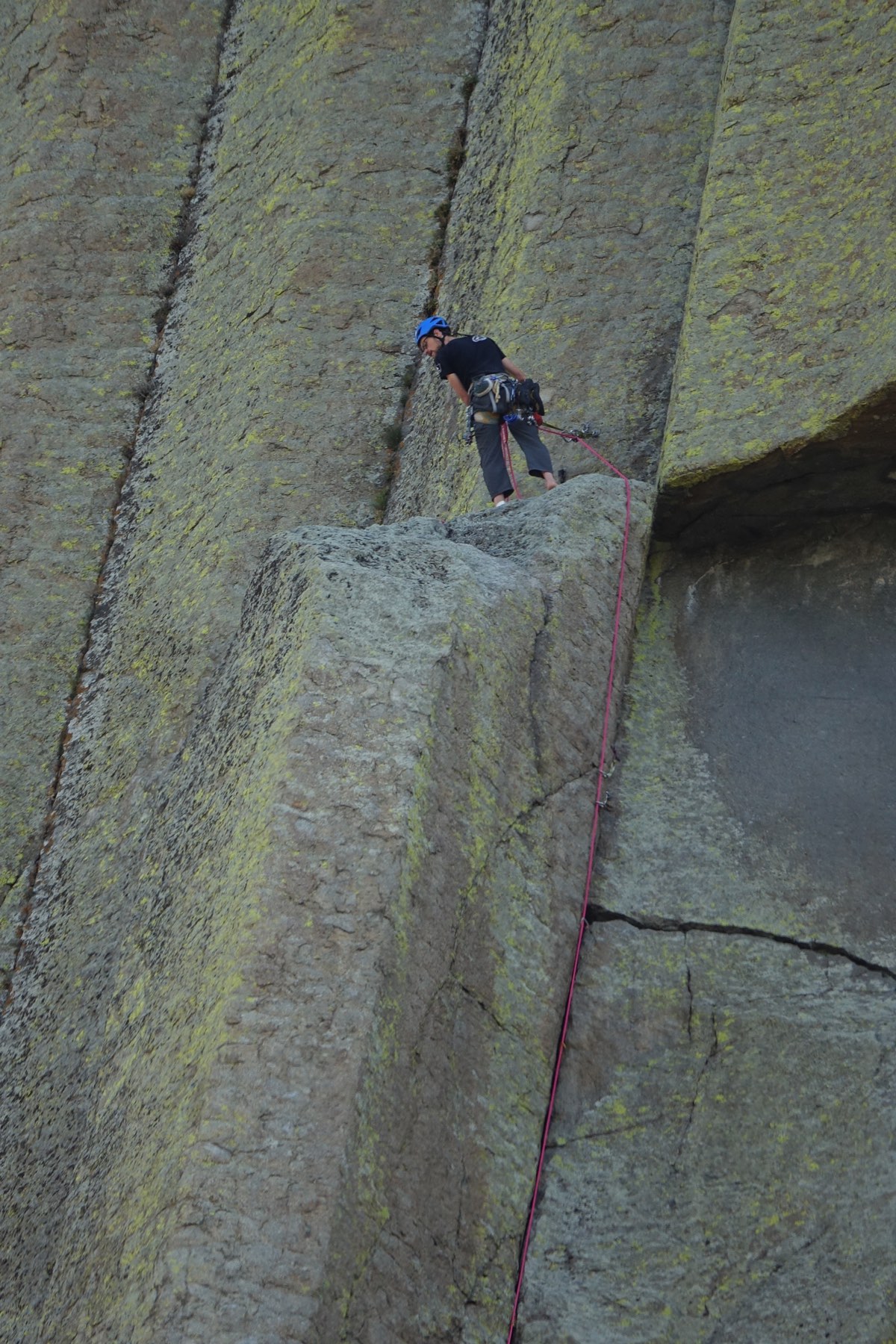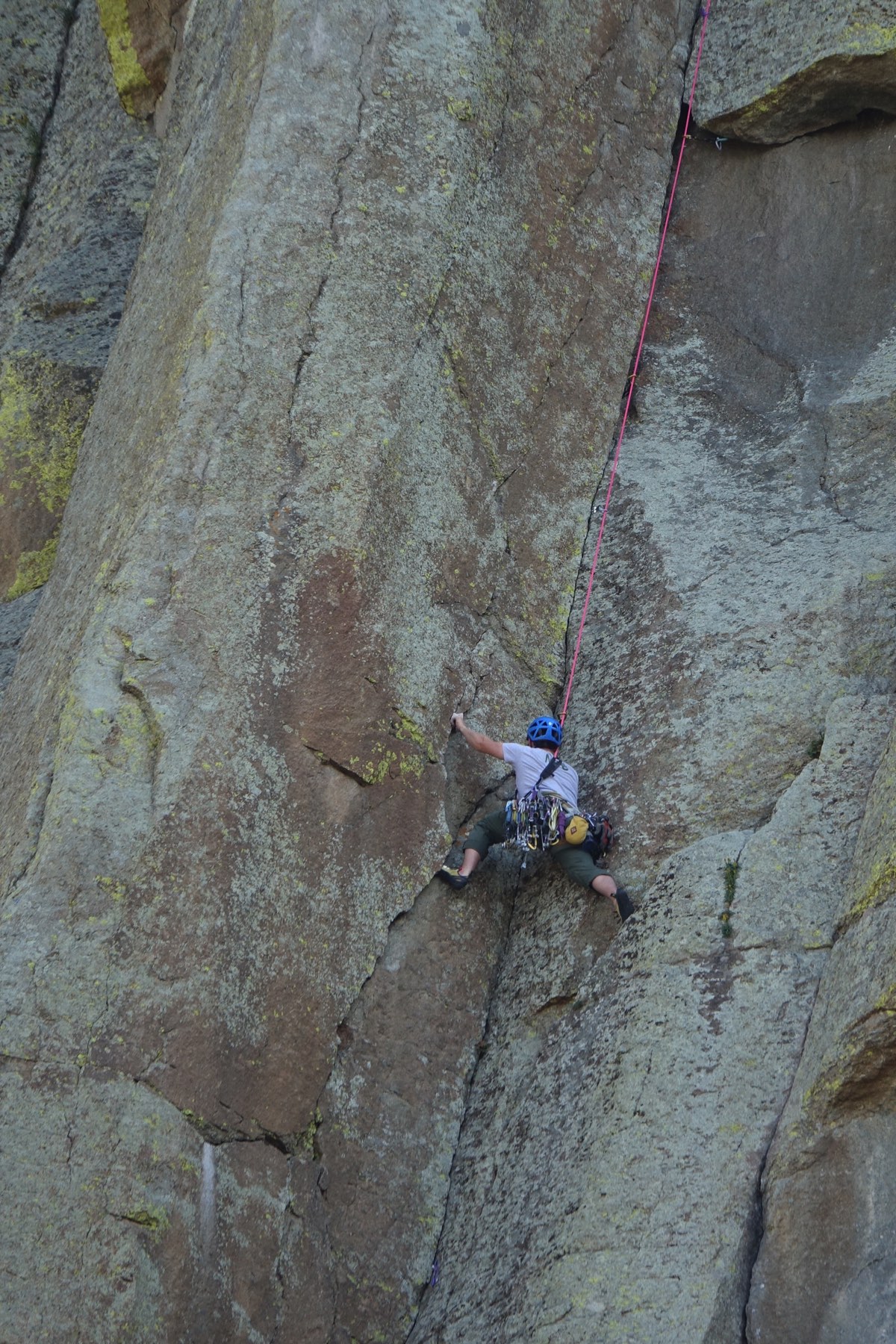 On our way out of the park, we made a stop at Prairie Dog Town!! They are so dang cute. And I was surprised to see one little guy chomping on milkweed. I guess I thought only monarch butterfly caterpillars liked milkweed, but what do I know?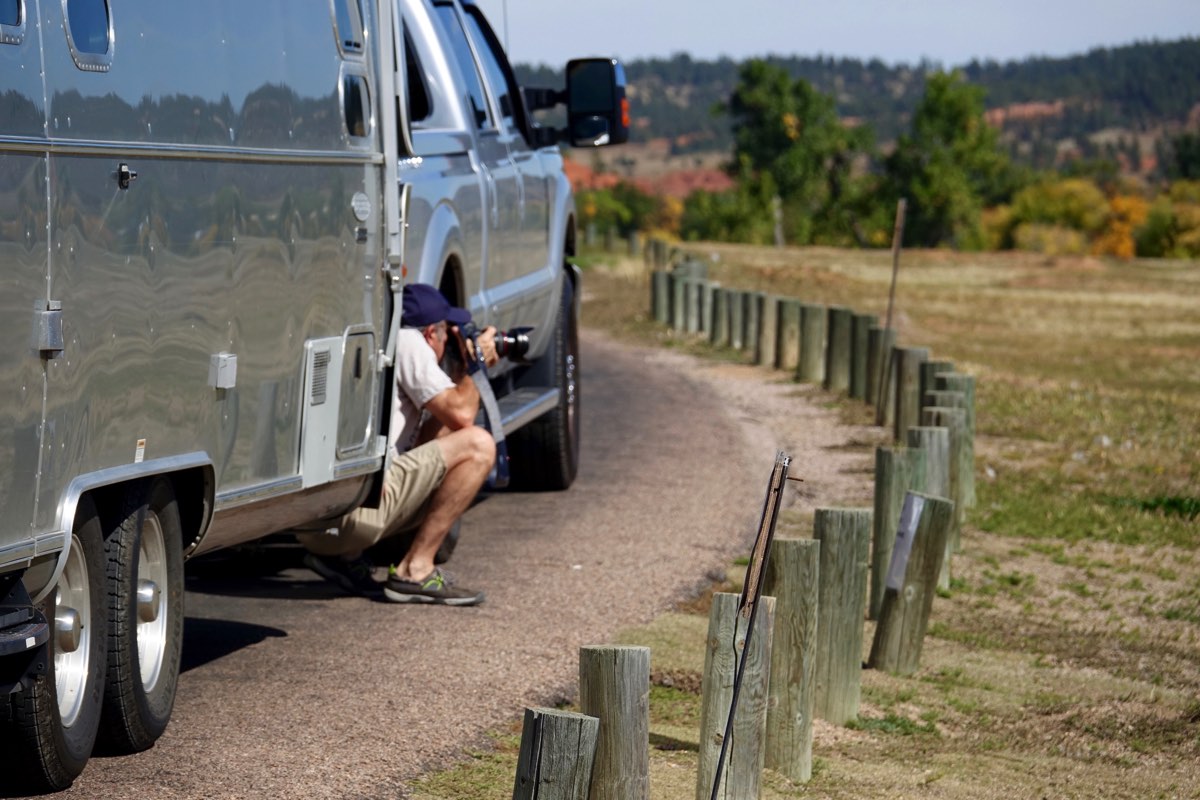 Bob, shooting prairie dogs!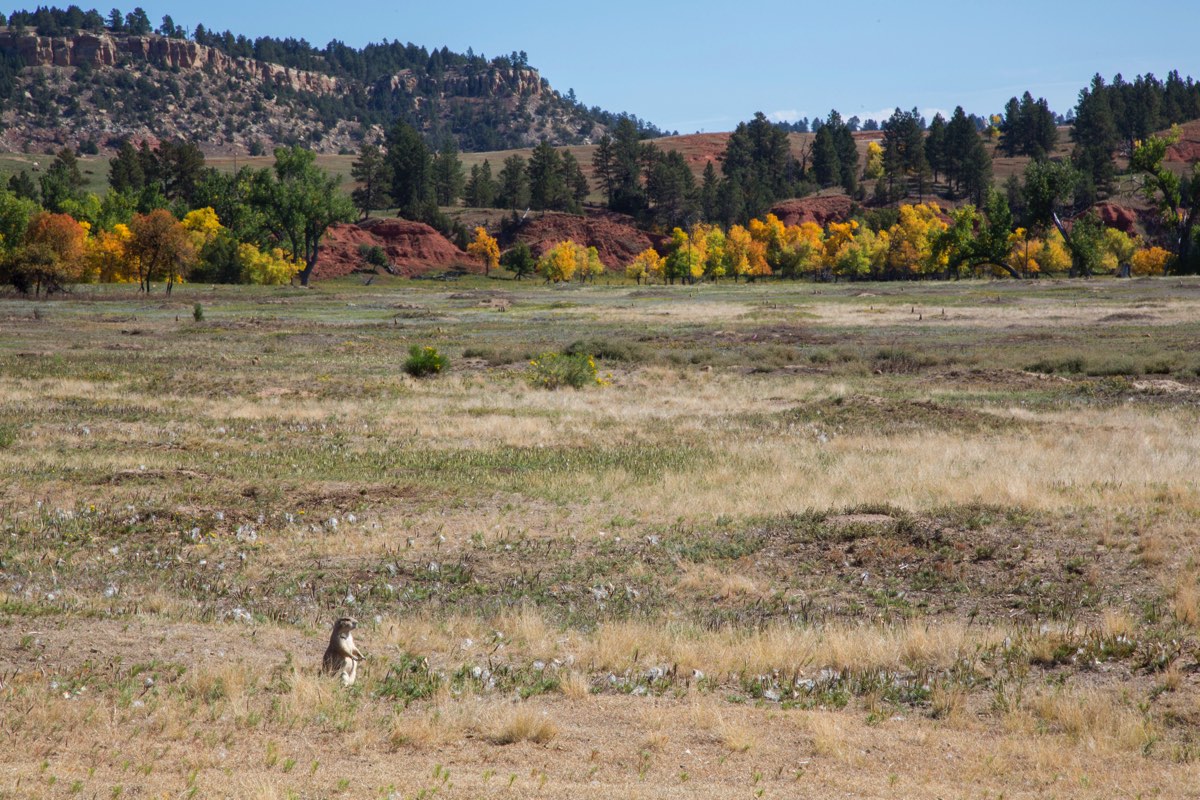 Bighorn National Forest
Another night of camping in solitude and quiet? Yes, please.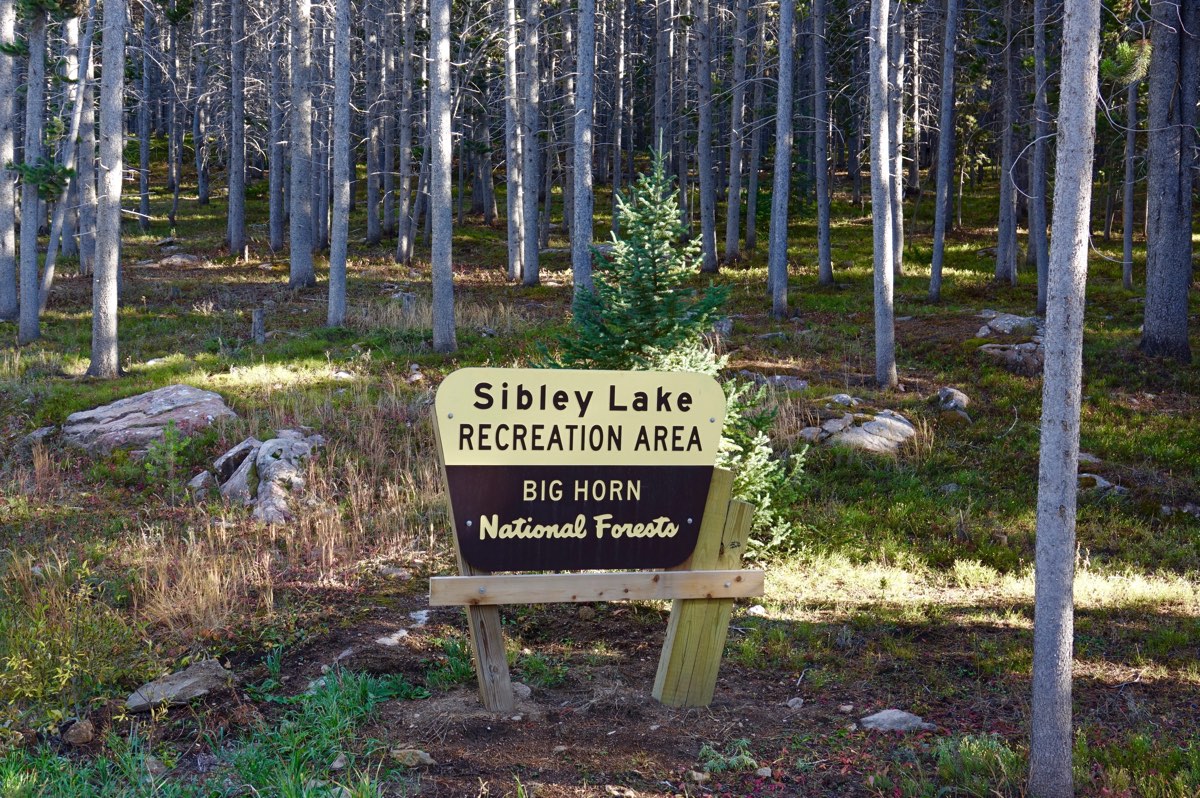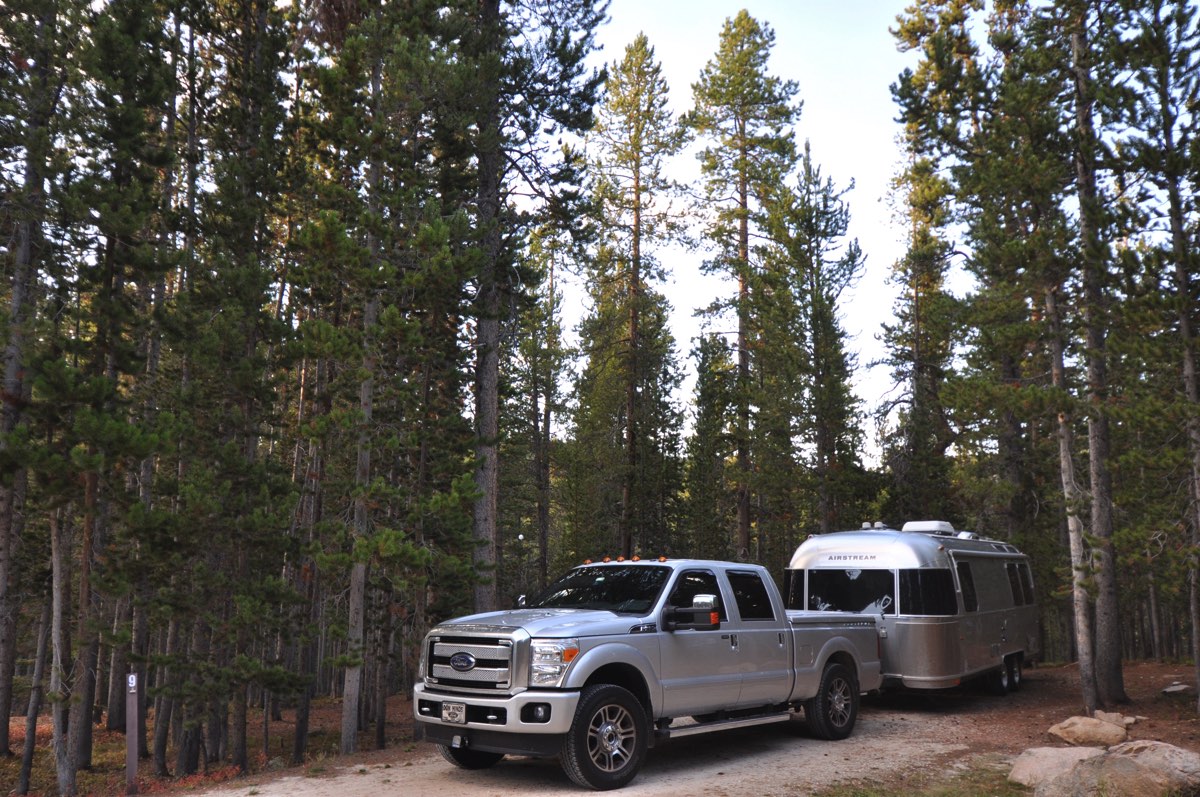 By the time we got into our campsite at Sibley Lake in Bighorn, it was beginning to get dark. But we knew the campground would be open, even though the electric loop was closed for the season. We chose site number 9 and backed in. The highway is nearby, so we heard cars and trucks going by, but not enough to really bother us. Bob was able to practice his dark sky photography, as we saw SO MANY stars! As he gets better and better at this type of photography, we hope to be able to post some pictures, but he's not ready to share them yet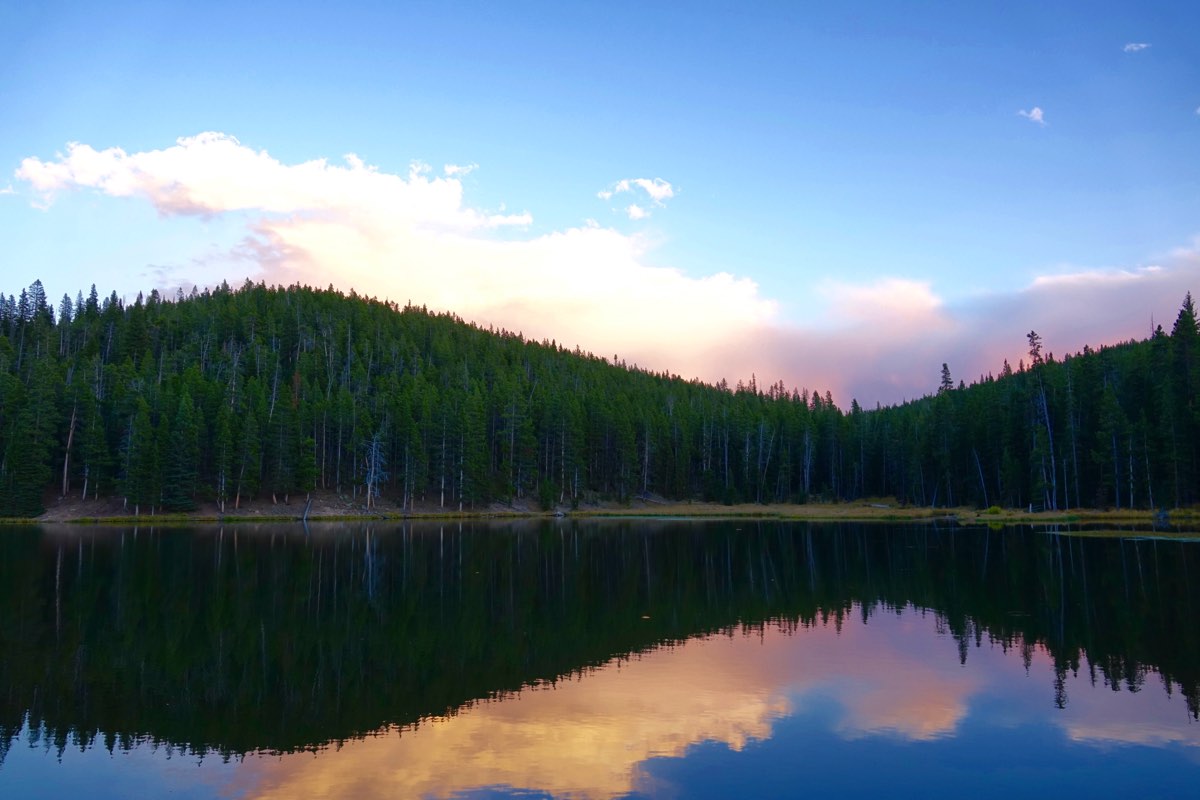 Next morning, we headed to Yellowstone, hoping to beat the oncoming rain. The storms held off and we enjoyed more sunny skies for the drive out of Bighorn. High mountain cliffs, river running next to the road…you can see why we headed west!